English teacher Bridgit Goss is one among a group of teachers new to FHS this year and she already feels at home. With all the energy among the students, school spirit was something that stuck out to her.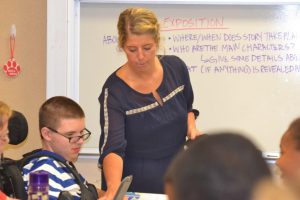 Teaching is an exciting experience for Goss; the students and faculty she works with each day contribute to this. Not only do the students impress her, but the faculty as well.
"I love that every student and faculty member has high expectations. It's nice to be around a culture that is supportive and expects great things," Goss said.
When Goss was little the teachers she had in school made learning more fun for her. The fun times Goss had in school have given her motivation to recreate those feelings for her current students as she has started her teaching career at FHS.
"I knew I wanted to be a teacher because I wanted to make school as enjoyable and fun as they did," Goss said.