McGrath follows her students to high school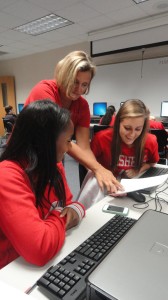 Hedy McGrath is one of the newest addition to the English department; coming from Riverside Junior High, she is ready for this year to finally take off. Following her own kids senior Nick and freshman Macy from junior high, she teaches English 9 and 11.
"I was just really kind of waiting on my kids to get done with Riverside because I thought it would be fun to go to the high school, but I didn't want to leave them. I was a little bit tired of babysitting, and I was ready for some more mature, stimulating, and intellectual conversation," McGrath said.
She says that the most noticeable difference between the two schools is how different the dress code is. Also, she notices that kids here seem to want to achieve more academically than at the junior high.
"As a person, I am probably a mom. That's always my goal, to make kids feel comfortable and like they have a place to go," McGrath said.
She also has two nephews here as well, Evan Ganser and Nathaniel Rhodes. Another thing about her is that she is addicted to Coke, Diet Coke to be specific. She drinks anywhere from 15 to 18 cans a day.