FHS holds show choir clinic for grades K-8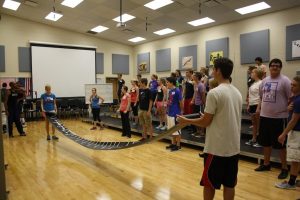 Children were welcomed into FHS for a day of a learning experience, giving them a taste of what things are like in the world of music and performance. Students in show choir helped to lead the kids in this learning experience.The Kids were told of the clinic by their music teachers in school, so anyone was given the opportunity to participate.The show choir clinic was held on Saturday, Sept. 28 from 8:30 am to 3:30 pm at FHS.
"Basically any child who is in Kindergarten through eighth grade has the opportunity to come for a full day and learn a song and dance to it, and then they get to perform it for their parents," sophomore show choir student Juliette Jensen said.
The high school students were assigned to different age groups as well as different jobs for the clinic, such as being the piano player and music teacher. The kids participating in the clinic learned new skills in performance and experienced what it is like to be a show choir student at FHS. 
"It's just kind of fun and interesting to see a choir teacher's perspective on everything because you kind of get a little taste of what it's like to be a teacher and learning from students and teaching students and just having a good time," Jensen said.
The clinic was run by FHS show choir teacher, Jennifer Vabrec along with Al Lucas who plays accompaniment on the piano.
"She gives anyone in the community an opportunity to have the spotlight and do something that they like to do," Jensen said of Vabrec.