"
"We lost about half our practice time" Coach Jay Chambers said. 
On Jan. 5, the Indianapolis area experienced approximately ten inches of snow and subzero temperatures, the same week HSE district schools were scheduled to return to school. However, with the snow, the start of second semester was pushed back another week and school sports and extracurriculars felt some impact.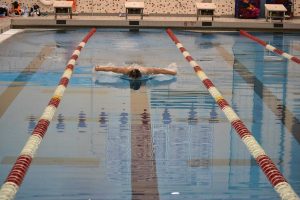 Typically, when there is no school, there also consists of no sports practices or events. There are times, where the coaches and players will try to beat the weather and squeeze practice in. While HSE schools had no school Thursday (Jan. 9) and Friday (Jan. 10), the swim team still made up their practice time on those days.
"We have had a number of practice cancellations due to the weather," swimming and diving head coach Jay Chambers said. "We lost about half our practice time, but were able to recoup about 2/3 of the volume in practices on Thursday, Friday and Saturday."
Giving athletes a week off practices also potentially affects their practice and workout routine. When the players are used to coming to practice on a certain number of days, it puts their body on a routine schedule. When you take them off of that schedule for so long, it could affect their performance and habits.
"It's just like morning routines. You're used to getting up at a certain time and doing your certain daily morning routines,"  boys basketball coach Joe Leonard said. "If you wake up late, it could affect your whole morning schedule."
While the weather impacts sports and extracurricular activities negatively, it also has its positives.
"Making sure a player does not get too worn out or tired of the sport is very critical. We never want to work our players so hard that they don't want to play anymore or get sick of playing or practicing" Leonard said. "It's good to give these guys' legs a break every once in awhile."