Total eclipse of the Moon
Rebekah Hern– The night sky was filled by a blood-colored moon on Wednesday Oct. 8. It was what is called a blood moon, or a total lunar eclipse, which happens when the Earth,  Moon and Sun all line up in a straight line. This causes the full moon to pass through the Earth's shadow. There is a total of four lunar eclipse. Two happened on the nights of April 14 and 15. The second two happened Oct. 7th and 8th.
In astronomy class, science teacher Marcy Clone shows a daily picture of the topic they are learning about that week. This week she showed two photos for the lunar eclipse.
"We have talked about lunar eclipse before the blood moon happened so students knew information about it," Clone said.
In honor of the blood moon, students could earn extra credit to help their grade.
"I made my students do a selfie with the moon. About ten students did it," Clone said.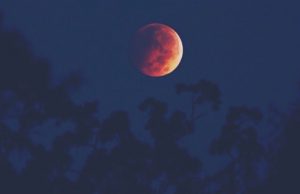 Total lunar eclipse are uncommon, so the next blood moon will not happen until Oct. 27, 2015.
Find out more about the blood moon here.