Tigers top Avon 54-50 in conference bout
Dylan Hughes– In a battle between conference foes on Friday, Jan. 23, the Tigers hosted the Avon Orioles.
The Orioles had nothing to lose coming into Friday night's contest with a 4-9 overall record. In conference play, Avon was 1-1 heading into the night, with a road win at Hamilton Southeastern and a home loss to Carmel.
Avon showed their desperation to win, erratically driving to the rim and playing aggressive defense with their guards. Some outside shooting from senior guard Keegan Kollmeyer and a low-post presence with junior center Cameron Wolter led to Avon calling the game's first timeout with 4:15 left in the first half.
The Tigers led 24-19 at halftime.
The Orioles took advantage of the close game by taking a 28-27 lead late in the third quarter. Avon's energy forced the Tigers to call their first timeout of the game with two minutes left in the third.
With some aggressive ball pressure leading to three consecutive steals, the Tigers went on an 8-2 run out of the timeout, and never looked back from there.
Avon crept closer, but in the end it was the Tigers taking this one, 54-50.
With Wolter at 6-foot-8 and junior forwards Lance Dollison and Shawn Taylor at 6-foot-5, the Tigers took advantage of their size in this game, forcing many misses at the rim that resulted in plenty of rebounds.
For the Tigers, playing efficient defense is key.
"We stay sound in our defense and we try not to gamble too much," Taylor said.
For the bigs, all they are trying to do is make their opponents' job harder.
"We just try to help the helper and rotate over just to keep everything outside of the paint and not allow easy buckets," Taylor said.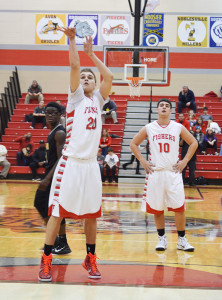 After the win, the Tigers are now 9-6 overall and 4-0 in conference play.