Baseball off to up-and-down start to season
Dylan Hughes– With 10 games under their belt, the 2015 baseball team has officially begun their season. The bats are swinging in full and the pitches are coming in hot, and so far, the Tigers are off to a 6-4 start.
Before heading south to Tennessee over spring break, the Tigers hosted Kokomo on March 30 and won  11-2. They went south with some momentum but were only able to split their four games, winning two (11-1, 9-8) and losing two (2-1, 11-10).
FHS returned home to Indiana to face Noblesville for a three-game series, hosting just one of those games. The Tigers were able to win the first game, 6-2, at Noblesville, lost the second, 11-0, and then won the series finale, 3-2, at home.
On April 14, the boys hosted New Castle and won, 3-0.
The Tigers have just began a three-game series with their crosstown rivals, HSE, on April 16. HSE was able to win the first game, 10-1.
Giving up double-digit runs in three of their first 10 games, senior outfielder Evan Ruthsatz sees room for improvement.
"We have shown some signs of inconsistency, and that is something we can definitely work on. If we show up to play, we are pretty hard to beat," Ruthsatz said.
There have also been aspects that Ruthsatz has liked from the team thus far.
"Early on I really like how our team plays together. We play for each other; not just one player playing for themselves. It has a sense of family and if we can keep that up, we are going to accomplish some great things," Ruthsatz said.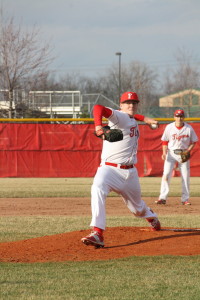 In upcoming games, the Tigers come home to host the second game vs. HSE on April 17 before going back to HSE to close the series out April 18.