Distribution of yearbooks marks end of school year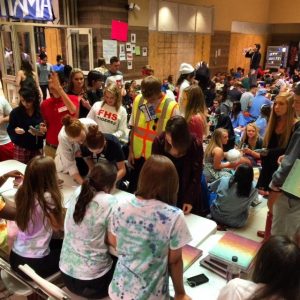 Sierra Solis – Enthusiastic yearbook members and newspaper staff members helped distribute yearbooks on May 20 and 21 this past week. The book follows the theme of "In Limbo".
"It's a little chaotic sometimes and there's a lot of people, but for the most part it's been fun," senior Bailey Batman said amidst a crowd of people looking to pick up their yearbook.
The group sends the book to be published, then leading up to distribution days just across the cafeteria. Signature and ID are required to pick up a yearbook ordered. Those who did not order a yearbook are able to come to Mrs. Brown's room at A218 and buy a book for $75.
"It's really cool because I remember at Ball State at the beginning of the summer when we were designing the book and I picked the colors of the cover from the bathroom floor and one of the buildings at Ball State, and then it ended up being the cover. So it's cool to see where a lot of our inspiration has come from. I've been on staff for four years and I've never gotten to play such a big part in choosing what the book really looks like and it's been really cool to see it come to fruition and see what it looks like," Batman said.