Tigers fall to Avon in Homecoming game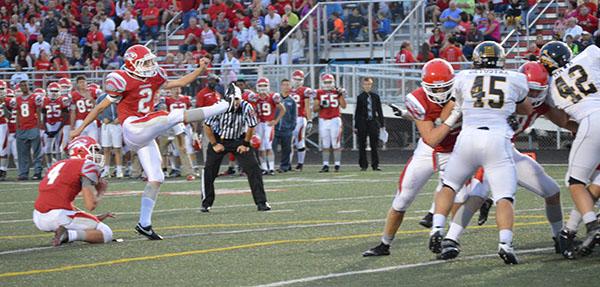 Returning to the same place they fell to HSE two weeks ago, the Tigers were hoping to bounce back in front of their home crowd. To add a little bit more motivation, this was the the Tigers' Homecoming game, facing Avon.
Tigers struggled for the majority of the first quarter, punting on their first three possessions. Avon, however, mustered out a field goal on their first possession.
Nearing the end the first quarter, junior safety R.J. Potts recovered the ball that was snapped over the Avon punter's head for a touchdown. They led 7-3 at the end of the first.
Avon struck again with 6:06 left in the second quarter, taking a 10-7 lead. The Tigers then drove down the field, and senior quarterback Zach Eaton found Potts (as a wide receiver, this time) for a touchdown to take a 14-10 lead with 2:38 left in the first half. That remained the score heading into halftime.
Before the third quarter could end scoreless, Avon punched it in from the seven to regain the lead, 17-14. From that point on, Avon extended their lead while the Tigers stayed at 14.
Two minutes into the fourth, Avon scored once again and led 23-14 after a blocked point after attempt. They then scored again four minutes later, this time missing the point after attempt.
After an interception thrown by Eaton, Avon scored their third and final touchdown of the quarter, on the ground from 17 yards out. They made that PAT, and went on to win 36-14.
While Avon's defense was stout, the Tigers' offense just could not get anything going.
"The offense just wasn't clicking. Nobody was really focused; it seemed like nobody gave their all tonight," Potts said.
FHS now moves on to Victory Field where they will face Cathedral.
"It's going to be a great game. Just a great atmosphere, everybody's going to be hyped. It should be a pretty good game," Potts said.
After Cathedral, the Tigers will see Westfield (road) and Zionsville before postseason play.