Tigers face New Castle in first action of season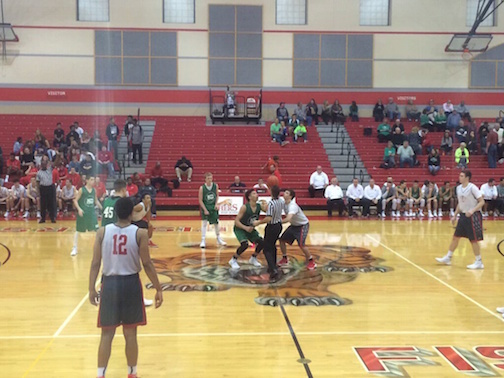 Tigers hosted New Castle in the first action of the 2015-16 season, this being a scrimmage to prepare for their first game on Nov. 28 vs. Shortridge.
Scrimmages are much different than normal games, as it is merely an exhibition. Due to this, there is a score kept throughout each of the four quarters individually but the score resets after each quarter ends. There was no final score at the end of the game but the Tigers did control the game throughout, winning each quarter.
"I think it helps us because with losing the ability of a guy like Keegan [Kollmeyer]; we're going to be able to score in different ways through transition and dribble penetration by spreading the floor and letting our playmakers get us going," senior point guard Zach Eaton said.
Another difference in a scrimmage from a game is a running 12-minute clock. That is the typical amount of time for a quarter, but in a scrimmage, the clock only stops during timeouts. However, things like free throws towards the end of a quarter may prompt the clock to stop.
Following the trend of the NBA and the general direction basketball is heading, the Tigers will be playing with a stretch-four this season as opposed to two big men in the post.
"Spacing is huge for our offense, but I think it's a real advantage to us because we have guys like Caleb Reitz, Lance [Dollison], and JT [Joe Counts] that can play the '4,' but really play as guards and get our transition game going," Eaton said.