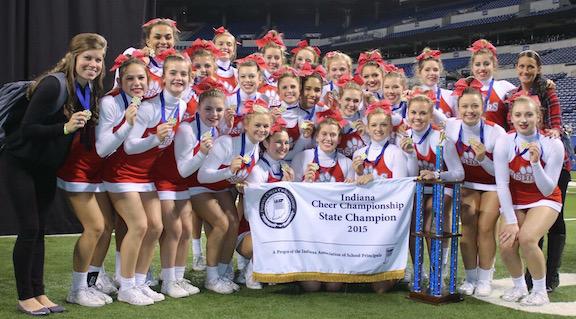 1,3,5,7, hit. The crowd goes wild and the Fishers varsity cheerleaders run off stage just finishing their routine at the state championship.
On Oct. 31 at Lucas Oil Stadium, the varsity cheerleaders geared up to try to win their third state championship. With months of practice and hard work there was a lot of anticipation building up to state.
"We have been practicing since the summer, and during the week we practice after school," sophomore cheerleader Claire Kemp said.
Carmel was the team to beat this year at state and the cheerleaders were determined to win again. During preliminaries, the cheerleaders fell short to Carmel, coming in second place. They still qualified finals and were ready to go all out.
"This year the team worked really hard to get the perfect routine because we lost a lot of seniors," Kemp said. " We had to start from scratch basically so we really wanted to win this year."
The varsity cheerleaders executed their routine for finals without one fall or stumble earning them the first place position for the third time.
"We had to replace some things in between prelims and finals but everything worked out great," Kemp said.