Tattooed students convey personal meanings through ink
The sting left behind from the repeatedly dragged needle against the skin lingers as the student observes their permanent ink for the first time. Some students within the school decided to get tattoo's with meanings close to them or their families specifically. Their ink is left as personal reminder of loved ones dear to them in memorial or as a tribute.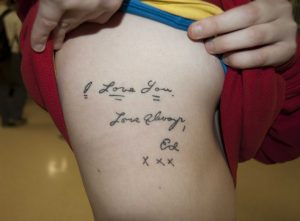 Junior Madylin Suda tattooed her grandfather's handwriting on her right side by her ribcage. Photo by Emma Russell.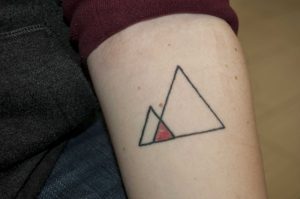 Senior Sam Haggard tattooed three geometric triangles on her left forearm. Her older sister and her mother each have one as well and the triangles stands for each of them. Photo by Emma Russell.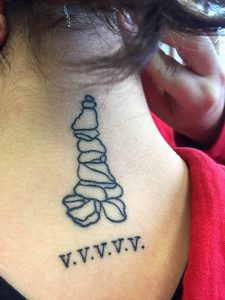 Senior Lily Malcomb tattooed a pillar of rocks her family built at Acadia National Park. She also placed the 5 V's underneath to represent a latin phrase which means "By the power of truth, I, while living, have conquered the universe," Macomb said. Photo courtesy of Lily Malcomb.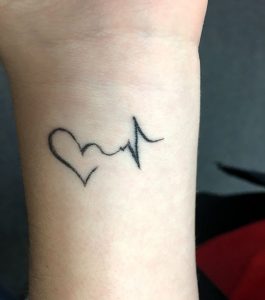 Senior Hallie White tattooed a heart connected to a heart monitor to represent her father's health condition."My tattoo is about my dad because he has had two heart transplants, but it is also because I would like to go into the medical field," White said. Photo by Emma Russell.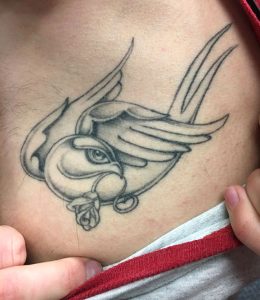 Junior Nic Grout tattooed a swallow to represent his grandfather's favorite bird, along with the flower of July, the month he was born. Photo by Madylin Suda.
For more information on safety of tattoos check out our next print issue coming out on Jan. 27.