African American Heritage Night explores the roots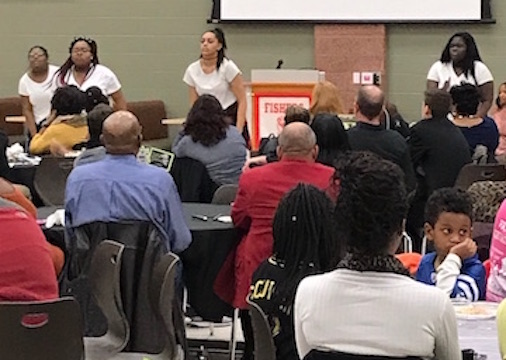 "You fall in love with a woman's body but you do not know her roots." Those were the words of sophomore Shaynea Rolle at the African American Heritage Night on February 16. When she drew her speech to a close, the 6:30 CCA audience met her with cheers. Rolle's speech, alongside junior Kennedy Hervey's, focused on the struggles of growing up as a young black woman in America. The two student speakers, introduced to the audience by sophomore Sterling Brown, were two highlighted performances of the evening.
Aliese Harris, Lexi Lumas and Darlene Knoslow sang "Lift Every Voice and Sing" by James Weldon Johnson, a song recognized as being the Black National Anthem. The FHS Jazz Band and Drumline played 1920s tunes to welcome in guests. Entrepreneur and philanthropist Ken Thorpe, founder of The Ken Thorpe Foundation that grants scholarships to black youth, delivered a speech focusing on the importance of education in the community. The main theme for this year was innovation in black history, and as he looked out over the new generation of black students in the crowd, Thorpe had hope for the future.
"You have to start with your education and experience," Thorpe said. "And then you have the choice of becoming your own person and starting your own business. You can take that wherever you want to go."
After Thorpe and the student speakers were finished, principal Jason Urban delivered brief remarks and the night was in full swing. Attendees were served food and allowed to view student projects throughout the CCA. There were presentations about influential artists in the Harlem Renaissance, like Louis Armstrong and Arna Bontemps. Representatives from historically black universities, fraternities and sororities set up booths about college opportunities.
Overall, the night was intended to be a gathering for all citizens of Fishers to show appreciation for the accomplishments of an overlooked part of America, and for the new generation to remember the stories of the past.