Mock Trial Club serves justice at Hamilton County Courthouse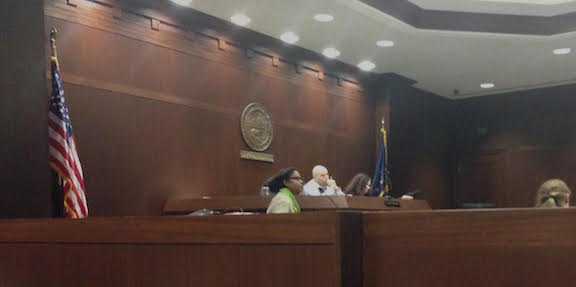 The murder of  Lou Contralto took place under the cover of darkness on Sept. 16, 2016. The victim, protected by the witness protection program, killed by means of a neck wound.
Students from Fishers acted on the side of the prosecution in attempt to find Rowan Hyde guilty of slashing his neighbor's neck as means of revenge for the murder of his dog. The group has worked towards perfecting their case for a month.
While the crime is not real and there are no repercussions in the real world for this fictional culprit, sponsor and history teacher Matthew Bockenfeld focuses on bettering students' legal skills by coaching them up on court skills that all lawyers utilize.
During practices club members study a plethora of objections and mannerisms. Students must memorize the specific rules of court from no badgering to having a solid foundation of claims.
The trial on Wednesday was evaluated by judges Ben Strahm and Wendy Clar from the Hamilton County Courthouse.
"It's really similar to a real trial. [The judges] know what they're supposed to be doing," junior Brye Meyer said. "They know evidence, court mannerisms. They tend to give really good feedback on how you can improve and what real life court is like."
The group will be presenting at a state competition in early March, but will be accepting new members for the next season next September.
"We use real Indiana law in our cases, so that is really fun if you want to go into the legal field." Meyer said. "But, really, this is a club for anyone that wants to improve their speaking skills, gain confidence and make friends."