World Debate team walks away with trophy at state meet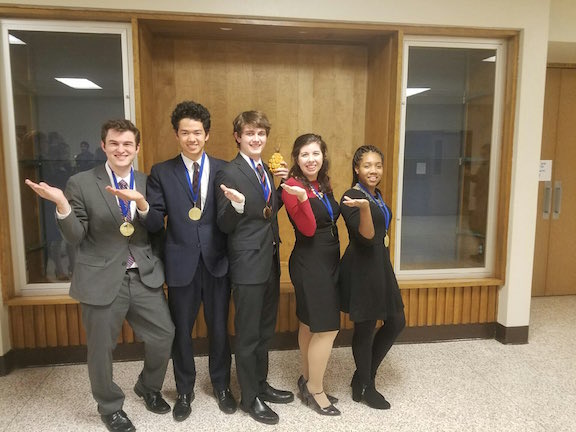 Fishers Forensic Force Debate Team won state for the second year in a row on Saturday, Jan. 28 at the World School Debate competition in Kokomo. The team is composed of seniors Zane Judd, Olivia Jacobs, Noah Alderton, Matthieu Picard and junior Kennedy Harvey.
For every meet in debate the topics are all different. Junior Rhiannon Johns is on the junior debate team and got to watch the competition.
"They remained composed the entire time even when the opposition would say unprofessional things," Johns said. "Frankly, the other team was just rude and that is not something that goes over well in debate. It is about decorum and positivity."
The four seniors have been on the team since their sophomore year and are close friends, Alderton says that this is part of the reason that they have won so many matches together.
"Honestly teamwork is a huge component of our success," Alderton said. "Being friends has allowed us to have great cooperation. In addition, we try to always have fun, especially when some teams just take it way too seriously."
The speech team is always looking for new members. The skills needed are a mixture of creativity, public speaking and a good work ethic. Anyone interested in joining can contact Matt Rund or Paul Kennedy, and visit the Fishers Forensic Force website for more information. https://sites.google.com/site/fhsforensicforce/.