Kong: Skull Island resurrects original film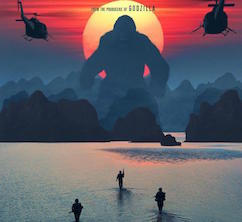 Viewed as a god and a cinematic favorite, King Kong made yet another reoccurrence on the big screen. Kong: Skull Island premiered in theaters on March 10 and left audiences in nothing but awe. Compared to other remakes, this 2017 revamp has remained the closest to the original film while adding some new twists of its own.
The setting of the film takes place shortly after the Vietnam war has ended. The plot follows a small team of scientists, an anti-war photojournalist, a former British Special Air Service member and Vietnam war vets, as they explore a newly discovered Island. Upon arrival the crew soon encounters Kong as he swats their helicopters out of the sky when they were conducting seismic testing, or so they said.
I have to say I was not very impressed with some of the movie's "shock factors," and plot twists. Most of the plot was ultimately predictable, with the only surprise being in which order most of the crew gets killed off and which newly introduced monster will do so. I have to admit, I was intrigued when the natives on the island said that Kong acted like the protector of the island vs. the villain everyone originally took him for.
For those who have a weak stomach I advise avoiding this movie depiction of Kong. Blood, gore and everything in between is clearly shown throughout the film. Personally I thought this made the movie more realistic. If a giant gorilla steps on a man, or a giant lizard bites the head off a soldier sorry to say it, but it is not exactly going to look peaceful.
Overall I was pretty impressed with this rendition on an old classic, and I am excited to see how Warner Brothers decides to incorporate the characters and the giant ape into their MonsterVerse series. Fans can expect to see King Kong return to the screen in 2020 for "Godzilla vs. Kong," where yet again they can see this King battle yet another oversized monster.