ID carding policy amends security concerns
When the Noblesville West Middle school shooting occurred just under 11 miles from FHS at the end of May, thousands of Hamilton County parents wanted to know how their schools intended to prevent that tragedy from happening again.
FHS enacted stricter safety measures new to the fall 2018 semester following the incident. The most significant of those changes is the new ID carding policy. With 3500 people attending the school each day, they needed a new system of keeping track of people. So the school now expects everybody to carry identification on them and be ready to present it both when they enter the school after 7:45 AM and when they roam the hallways outside of passing periods.
IDs most often include cards that the school issues, but students can also present the tab labeled "Student Information" of Skyward on their phone to substitute. If a student is unable to do either, they are simply supposed to be logged into Skyward with a staff member.
"If someone's not bringing an ID, we'll figure out a way to of getting one on them," assistant principal Chrissie Sturgill said. "We don't want kids to be in trouble because of it, we just want our school to be safe."
Starting in September, students on their FLEX periods had to place holographic seals on their physical IDs as they sign out. FLEX period students can freely leave and enter the school on a regular basis, so the change allows the administration to ensure that they are the only ones using the privilege.
According to Sturgil, the timing of the changes are somewhat coincidental, because the Noblesville shooting was not the direct inspiration for the policy. FHS had been interested in it for months prior to the shooting, especially because HSE introduced it last year. Senior Dalvir Bachra thinks that the policy still comes at a good time, but that security could go even farther.
"It's good for them to make sure that you actually go to this school," The best way to improve would be for them to have a metal detector there, though it may be expensive," Bachra said.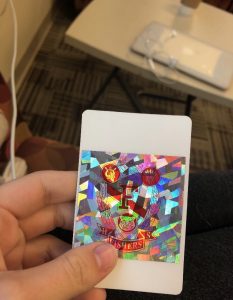 Leave a Comment
About the Contributor
Ethan O'Sullivan, Web Editor
Ethan O'Sullivan is a third year writer on staff, and has served as the Web/News Editor for two years. He has a personal interest in data journalism and...