Mock trial team opens tryouts for new members
Mock trial is a club sponsored by the Indiana Bar Foundation that acts out court cases in a real courtroom in front of certified judges and lawyers. Some people in the club act as their team's defense or prosecution lawyers, with the others acting as witnesses.
This year, the club plans on forming two separate teams. Teams will receive the case, then compete in a competition. Competitions are set up by a legal professional that presides over the trial, and real lawyers then act as backup judges during the competition. Teams earn points by developing a strong case and impressing the judges on the witness stand. The mock trial club meets every Thursday from 2:55 to 4:15 p.m.
However during competition season, teams usually meet Tuesdays and Thursdays. Competitions are Wednesday in the winter from 6 to 8 p.m. at the Hamilton County courthouse. Members are admitted through their performance in the tryouts. Tryouts will occur throughout the week of Sept. 24. Students can sign up to try out outside of club sponsor Matt Bockenfeld's room B230. If unable to make any of the tryouts, Bockenfeld requests that students email him to schedule a time. For the tryout, a potential member must read a witness statement provided to them and prepare to answer examination questions like they would in a trial. The tryout takes about 10 minutes, and rosters will be posted outside of Bockenfeld's room two weeks after the tryout date.
Leave a Comment
About the Contributor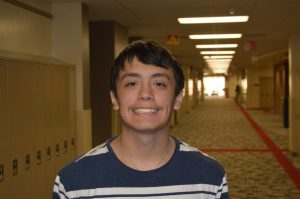 Tony Martinez, Reporter
Tony Martinez is a first-year reporter and a senior.