Cheerleading prepares for Nationals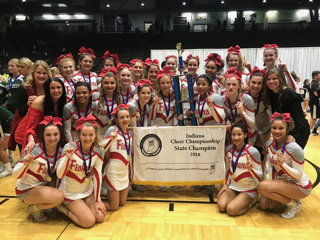 Tiger Cheer won the state championship on Nov. 4. The team is on a roll as they won the state championship trophy last year as well. The lady tigers were electric coming off of the victory.
"Elated, this team is special and has unspeakable talent that has been proven by winning this title." Senior Leah David said. David has been on the cheer team throughout all four years of high school.
Now that state is out of the way for the Tigers, they now have to prepare for the national championship.
"National preparation requires our team to increase our practices both in and out of the gym." David said. " it is essential for our team to remain positive and support one another along this journey."
The lady tigers also won the national championship last year. Trying to go back to back for national championship can prove to be difficult. Nerves and tensions can be high when preparing for such a big event.
"Absolutely, as defending National champions we have a target on our backs," David said. "With that being said our team understands that it is hard to remain on top and are prepared to overcome any challenges that we might face."
The lady tigers keep on practicing and preparing for the national championship event that will take place during January 18-20 at the Walt Disney resort in Orlando Florida.
Leave a Comment
About the Contributor
Tony Martinez, Reporter
Tony Martinez is a first-year reporter and a senior.