Economics club pushes for return to finals in competition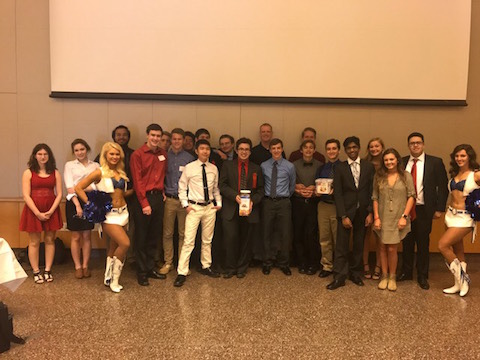 Making it to the district finals almost every year, Economics Club continues to push to the finals for their competitions. Economics Club goes into more than just what students learn in the class according to sponsor David Turner.
"A lot of students who join Economics Club take my class are generally interested in [economics], but some also just have that competitive spirit," Turner said.
Students like Senior Will Leonard joined due to their interest in economics.
"I took Macroeconomics and enjoyed the class and teacher," Leonard said.
According to Turner, the only activities the club does are ones to prepare the students for the competition in Spring.
"We meet to have mini competitions with buzzers and quizzes on economics and try to own our economic skills."
When the competition in the Spring finally arrives, students are put into groups of four for competing. Turner adds that the students always have success with their competitions.
"Last year five AP teams and one regular economics team competed."
Leonard joined the club last year as a junior, mentioning that he remembers making the finals and placing second in the district.
"We didn't get to move on last year, due to placing second place. But it's usually very close between us and Carmel High School. Overall it's a very fun and scary experience."
Not only do students in economics club get to finals every year, but also receive higher scores on the AP exam.
"Students receive these higher scores because of the depth we go into about the subject in the club versus the class."
Economics Club is open to anyone interested in the class, naturally ambitious or aiming for a higher AP test score. Although it is beneficial to students who are currently in the class or already have received the credit, it is not required. The next meeting is Tuesday Feb. 5 in H220. For more information or later meeting dates contact [email protected]
"Economics is beneficial to students when it comes to life," Turner said.
Leave a Comment