Blood drive to help local hospitals moves offsite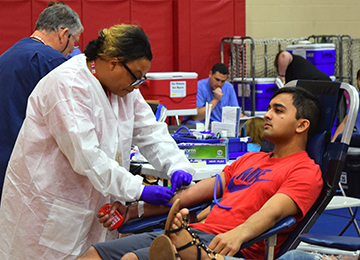 Since 2006, FHS has been hosting a blood drive each semester. However, due to the coronavirus, the next blood drive will be offsite at the Delaware Township Community Center on April 29. The blood from the blood drive will be going to local hospitals in central Indiana, according to science teacher Tammy Snyder.
"We have a large number of students who love to donate and give the gift of life," Snyder said. "Each donation has the potential to help 3 other people."
According to the American Red Cross, blood drive cancellations have been growing drastically because of the coronavirus – nearly 2,700 Red Cross blood drives have been canceled so far. There is expected to be an even greater increase in cancellations, so donating to any blood drive many be beneficial to hospitals.
In order to donate, the basic requirements are that students should be healthy, at least 17 years of age, and at least 110 pounds.
At a blood drive, students will fill out a medical questionnaire and will be interviewed by Indiana Blood Center staff. The donors will then be tested for iron deficiency. When students have passed all requirements, they will be sent to get a pint of their blood drawn, which should take around 15 to 20 minutes, according to Snyder.
"The process of getting signed was very smooth and they made me very comfortable, especially since I had never given blood before," senior Candace Smallwood said.
Although there may be concerned about getting infected from the coronavirus at these blood drives, all blood center staff members wear gloves and masks and wipe down all surfaces between donors, according to Snyder. There are also precaution to ensure that donors are not less than six feet apart.
"The blood center is very thorough in safety precautions," Snyder said. "I donated at the end of March, and I was not concerned about my safety."
According to the Mayo Clinic, there are many steps that donors can take before they give blood: (1) getting plenty of sleep before the day of the blood drive, (2) eating a healthy meal beforehand, (3) avoiding fatty foods, (4) and drinking extra water.
Donating blood may make a significant impact on someone's life. According to the American Red Cross, blood donors can help patients with varying conditions. With a person needing blood every two seconds in the United States and the decrease of blood donations because of the current pandemic, donating blood has the potential to save many lives.
"I felt good about donating my blood because such a little act from me could greatly impact someone else's life," Smallwood said.
Leave a Comment
About the Contributor
John Yun, Web/News Editor
John Yun is the Web/News editor. He is Korean, and he loves to sing and dance. His favorite movie is "Avengers: Infinity War," and his favorite restaurant...