eLearning Week 4: Stay-at-home order impacts classes, spring break plans
Governor Eric Holcomb's continued stay-at-home order means eLearning for the remainder of the school year. After four weeks of eLearning, students and teachers are only halfway through the online class process. The district is making use of the 20 waiver days allowed by the state, increasing spring break by four days and having class three days a week.
Question: How has Governor Holcomb's stay-at-home order affected you and your family?
"
It's kind of hard to find things to do but at the end of the day it's better for me to be a little bored then people's lives be at risk. "
— Sophomore Morgan Strahan
Junior Josh Zimmerman: "I tried to keep myself busy over spring break by giving myself projects to do around the house. My plans changed completely due to Coronavirus. I was supposed to go on a mission trip to Belize, but that was sadly cancelled. I was really looking forward to going on the trip because I don't get many opportunities to go serve out of the country."
Sophomore Morgan Strahan: My dad works from home and so does my cousin. My sister and I spend most days hanging out, most days working on homework or watching movies. It's kind of hard to find things to do but at the end of the day it's better for me to be a little bored then people's lives be at risk. 
Swim coach Steve Sanchez: It has provided our family an opportunity to spend more time together and have family meals and take walks together. Overall, it's been a time before the kids were at school all the time. We have had a lot of time together.
Question: What did you do for the two week spring break? How were your plans changed by the pandemic?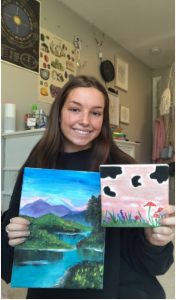 Junior Erica Abernathy: Over my two week spring break I mostly painted and watched a lot of movies and TV. However, I was supposed to go to Florida with one of my good friends which was quite a disappointment not to go.
Sophomore Joe VanValer: For the 2 week spring break, my dad and I went to several mountain bike locations, as well as my hometown, to ride around for a couple hours. Don't worry about us spreading a disease, because all we did was sightseeing. We were going to go on a mountain bike trip to Arkansas, but that got canceled.
Sophomore Cora Thompson: We tried to have fun activités planned, like zoom jeopardy with our extended family, but mostly we just watched movies and kept doing what we have been doing. Luckily, we didn't have anything planned in terms of vacation, so at least we weren't missing out on much.
Questions: How do you feel about eLearning from the rest of the school year? How do you keep up on your eLearning assignments?
Senior Mia Stahl: It's frustrating to feel like all school is is homework. I complete them the best I can, but motivation is hard when you aren't actually in school. I've signed a petition to ask that the governor cancel fourth quarter for all students, but there isn't much else I can do.
Senior Zach Lagpacan: The flexibility from eLearning, especially since the Monday-due-date change, has allowed me to tackle my school assignments and other work as I please, which I have used to designate my week's work for a given subject to a given day of the week, which can force me to get all my work done and somewhat prevent me from getting distracted and reverting to my nature lazy state of playing 2k.
Sophomore Meghan Chen:  I understand why we have been learning but I'm not good at getting it done. I don't keep up very well with my assignments but I try my best to make a checklist each day of the classes I need to get done. It's been stressful.
Sophomore Tahaa Munir: E-learning is now twice as important now that there aren't any finals. All assignments are weighted more now compared to other semesters which makes it vital that I keep up with my work. However due to me not being in a stable school environment where I can study easily and get quality assistance that my teachers provide, I cannot efficiently put out my best work.