BookTok: Hashtag turned reader movement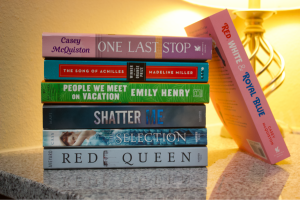 While Renegade, Savage Love and the album cover challenge are considered TikTok trends of the past, there is one trend that has proven it is not going anywhere soon, after BookTok with over 21.8 billion views, is a hashtag for book lovers alike to create, recommend, review and connect on more than one level. 
     "One day a TikTok about books came on my for you page, and I liked it or saved it so I could remember the books recommended, and since I interacted, I eventually just got onto BookTok," senior Amy Nguyen said.
     This same process has happened for so many people that it has even caught the attention of booksellers across the globe. Stores like Barnes and Noble, Waterstones and Half Price Books have all taken full advantage of the platform's success in promotion. However, at its roots it is a space for readers, by readers.
     "My favorite part about BookTok is seeing other people freak out about books like I do," senior Abby Kilgore said. "Watching people love quotes and characters that I love is what makes reading so great for me."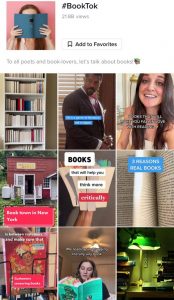 This common love has turned into unbeknownst success for others. Adam Silvera, author of now #1 New York Times Bestseller, "They Both Die at the End", published his book in September, 2017. After debuting at #4 on the Young Adult Hardcover Bestseller list in September, 2017, it topped the charts nearly three years after its initial release, where it has stayed since. The book's popularity on BookTok gained its hashtag 57.3 million views. With top videos gaining over one million likes.
     Similarly, The Song of Achilles by Madeline Miller, We Were Liars by E. Lockhart and The Selection Series by Kiera Cass have all gained a large following after notable success on the popular hashtag. This success has not gone unnoticed.
     "There are so many kids who ask for the same type of book that it's so obvious that they're looking at the same resource," librarian Renee Isom said.
     As one of the main criticisms of BookTok, the "echo chamber" of book recommendations is causing some to look for new pathways.          "You're literally creating something where you're seeing the same things over and over again," said Isom. For alternatives, Isom recommends NoveList for students. A resource available for all students through the public library. It is a book database site housing recommendations of all genres.
     Despite this, lovers of BookTok can expect to see it around for a while. With Barnes and Noble dedicating entire tables to the popular hashtag and Hoopla offering a large variety of the popular book trends, the trend-turned-book staple has proven to have longevity. Isom also acknowledged this from a Media Center prospective saying, "It is definitely on our radar."
Leave a Comment
About the Contributor
Laura Masoni, Reporter
Laura Masoni is a senior at Fishers High School. Her favorite activities include traveling, rowing at Eagle Creek and going to concerts in Downtown Indy.