Brooke's Place strives to help reduce grief
     Brooke's Place founder, Pamela Wright, witnessed the emotional and mental impact of losing a loved one could have on children. On October 31, 1994 Thomas Wright, a friend of hers, passed away due to a plane crash. Pamela Wright recognized firsthand how much the situation affected his kids, specifically his daughter, Brooke Wright. In response, she realized that children needed a safe space to be supported and grieve when they lose a loved one. Hence, she was inspired to create her organization.
     "Brooke's Place offered its first ongoing support group night on April 15, 1999," advancement manager Katie Harting said. "Our founder, Pam Wright, saw the need to support grieving children, teens, young adults and their families. Pam recognized that large numbers of grieving children were unsupported. There were too few existing service providers coupled with an overwhelming number of children and families needing grief support services."
     In order to ensure participants are receiving the help they need, Brooke's Place offers multiple programs that mourners can partake in.
     "Brooke's Place provides support groups, therapy services and community education to children, teens, young adults and their families to thrive in the midst of grief," Harting said. 
     The organization, however, is mostly peer-led to establish a safe and comfortable environment for the members. If there is a specific activity for the session, participants are free to just listen or engage in the conversation. Brooke's Place understands that there are more than one way to grief the death of a loved one, making sure that the mourner feels supported in their journey is the main mission. 
     "We want to create a space that is safe and confidential and ensures participants feel supported throughout their grief journey," Harting said. "I also believe in the 'I pass' rule. No one in our group has to answer a question or participate in an activity that day. They can pass and that is okay."
     According to Harting, due to their involvement in Brooke's Place, 64% of participants reported a decreased feeling of anxiety. 87.8% of families claimed that the summer programs the organization provided helped them reduce their feeling of isolation. 
     "I do believe our mission is being fulfilled every day," Harting said. Since our first program night in 1999. We have served over 20,000 individuals and their families with their grief journey."
     Brooke's Place hopes to increase awareness for their organization. By doing so, they would be able to expand their establishment so it is more easily accessible to more people. 
     "We are hoping to expand into other areas in Indianapolis," Harting said. "We currently have two ongoing support group sites, but we realize that transportation is a barrier. By opening more sites we can serve more individuals who are grieving."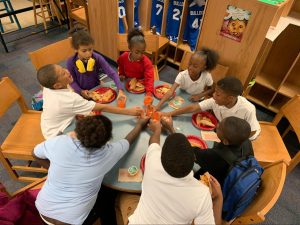 They have already been able to achieve this to a certain degree by implementing their institution in schools. This allows for students to have a support system when losing a loved one without having to put extra effort into transportation, time and scheduling. 
     "It's nice to be able to do it during the school day where there's not transportation issues," counselor Lizette Baumann said. "And right this year we're meeting during the week. It's a great chance for students to be able to process their grief, but there aren't those barriers of transportation or accessibility"
     On September 21, the first Brooke's Place meeting at FHS this year took place during Targeted Instruction, with Baumann as the main sponsor. 
     "I think [the first meeting] was good," Baumann said. "It's a great opportunity for students to be able to have that time to talk with others. I think really our purpose was just to have a time to connect."
     Baumann used to work at Brooke's Place as a requirement to become a counselor. Through her direct experience with the organization, she thought it would be feasible to implement the program at FHS. 
     "When I came to Fishers last year, that was one thing that was important to me, that teens have a chance to talk about their loved ones who had died," Baumann said. "And to have the chance to know that other people their age have gone through similar things."
     Brooke's Place's main mission is to institute a safe space for people- more specifically, children- to mourn and talk about the loss of their loved ones. They want to establish the message that there are multiple ways to grieve and that there are others who are going through similar situations. 
     "When you lose someone that you're close to it's hard to understand what grief is supposed to look like," Baumann said. "[Brooke's Place] is a chance for students to realize that everybody has their own journey when they're grieving. And really our hope is that students know that they're not alone in a grief journey and that it's okay to talk about their loved ones."
Leave a Comment
About the Contributor
Malak Samara, Editor-in-Chief
Malak Samara is a junior at Fishers High School. She heavily enjoys law and loves to write, draw, read, listen to music, and hang out with her friends!