Passion for racing fuels siblings' bond
     Cars zip around the track on a warm summer evening. Hundreds of people crowd the stands at the Indianapolis Speedrome to get a glimpse of the action. Suddenly, one of the cars starts smoking. An electrical fire has disqualified the driver, 15-year-old Sam Johnson.
     A scarring event for most is a typical part of Johnson's sport, automobile racing. Too young to legally hold a driver's license, Johnson, a sophomore at FHS, has been racing since he was four years old. His older sister, Natalie, a senior at FHS, also holds a passion for racing that started at six years old. Both siblings cite their great-uncle Don Christy as being the inspiration for their racing careers.
     "Our [great] uncle raced street stocks on dirt and was pretty good," Sam Johnson said. "He was ranked top three in most of his races and raced all across the state of Indiana."
     Instead of racing street stock cars, the siblings race what are referred to as "Quarter Midgets" and INEX Legend cars at the Indianapolis Speedrome. Quarter Midgets have a deep-seated history in the racing world, having been invented before World War II, and are generally recognizable by their small size. INEX Legend cars, on the other hand, were invented in 1992 at the Charlotte Motor Speedway. The cars represent mid-century American automobiles, but are about five-eighths of the size.
     Although both Quarter Midget and INEX Legend racing has a well-established scene, Sam Johnon said he hoped to take his talents to the next level.
     "I hope to get to racing NASCAR someday so I can make some money doing it," Johnson said. "Any professional series would be great."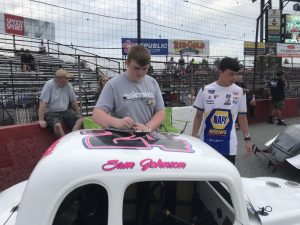 To keep up with the costly demands of racing, the Johnsons seek out sponsors and donors to help keep their cars up and running. The newest addition to this list is Coast to Coast Imports, a car dealership in Fishers.
     "I get paid every race, "Sam Johnson said. "It's not much, and we have to put it back towards our race funds, but it's a pretty cool job."
     Although the siblings seem to shrug off the danger of their sport, it is ever-present. The two have to wear an assortment of safety equipment and run countless drills to make sure they are prepared for any situation.
     "We have fire-retardant undergarments, suits that are two-ply, a harness, a big, bulky helmet that attaches to the harness, gloves, and special shoes – all of which are fire-retardant," Natalie Johnson said. "When we were in the Quarter Midgets we would always do fire drills where we would try to get unbuckled really quickly and get out as fast as possible."
     Mentally, the two do not even seem to notice the intensity of the sport that they participate in.
     "We've raced so much and haven't really been in a lot of wrecks," Sam Johnson said. "So we don't think about wrecking, we think about racing." 
     Natalie Johnson pointed out that Sam Johnson had suffered more of his concussions while playing around the track as a child than actually racing, while their mother, Donita Johnson, pointed to the peculiarities of the sport her children had grown used to.
     "For a 15-year-old kid who's racing cars and is now experiencing things like fires in the cockpit, that's not a normalcy for a kid's sport," Donita Johnson said.
     Although many students may not realize the intensity of automobile racing, the siblings said they felt very supported by the community at FHS.
     "Whenever I tell people, they're pretty shocked," Natalie Johnson said. "They're always like, 'Oh, wow, you race racecars?' or, 'Whoa, that's pretty cool!'"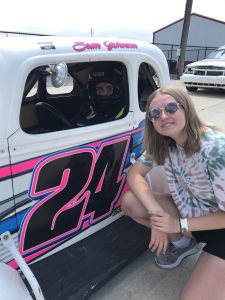 Sam Johnson said that, despite the enthusiasm, he did not tell many people about his sport due to the lack of knowledge on racing among students. 
     "[I wish] that [people knew] racing isn't as easy as it seems," Sam Johnson said. "They're like, 'Oh, you only turn left,' but there's so much more to it. We go up to 70 or 90 mph on some tracks."
     In addition to the sport being unique from other sports in its use of automobiles, Donita Johnson said the age groups were also much wider than a typical sport.
     "Sam literally races 50-year-old men," Donita Johnson said. "The age can be, in Legend racing, anywhere from 12 or 13 to whatever. We've known people who have raced at 80 years old in other racecars. It's just very rare that you are participating in a sport where you are competing against people who are so drastically different in age."
     Age is not the only factor that sets the Johnsons apart, however, as racing has been a male-dominated sport for as long as it has been performed. Throughout the history of NASCAR, for example, only four women have ever won a touring series race.
     "There's only a handful of teenagers that race the Legend racecars, and the rest of them are all men," Donita Johnson said. "Natalie was the only girl that took the track three years ago and we haven't seen any girls since."
     Though the siblings stand out at the track due to their age, their bond as siblings is only made greater through the non-typical sport they share interest in.
     "Other typical sports will have separate leagues for the girls and boys," Natalie Johnson said. "Since this is racing we can both race together. We have our own built-in team sort of. We are our own pit crew, so when he's racing I can help."
     Although the two enjoy helping one another when the other is on the track, they do not lose the competitive fire when they race against one another. In fact, the two state the sibling rivalry is an intense competition.
"If we're racing each other, you want to win," Natalie Johnson said. "We help each other off the track, but once the race starts, all bets are off."
Leave a Comment
About the Contributor
Andrew Haughey, Online Editor
Andrew Haughey is the web editor for the FHS student newspaper N the Red. His skills include the ability to drive a boat, play chess, and touch the rim...