Students celebrate Ganesh Chaturthi
Ganesh Chaturthi celebrations bloom in Hindu houses on Sept. 9 and Sept.10.  It is celebrated by performing religious rituals throughout the day. 
"On the festival, we worship the god Ganesha, who is the son of lord Shiva and goddess Parvathi . We build an idol of the lord, out of clay or any other material; and talk regarding stories about him. We wear all traditional things, decorate and thank the lord." sophomore Sravani Katuru said.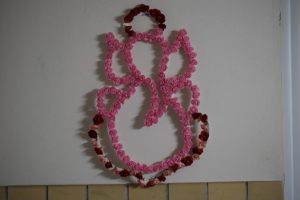 Ganesha is a Hindu lord, and has an elephant head with a human body. Ganesh chaturthi is a holiday celebrated on the occasion of the creation of Lord Ganesha. According to the most widely accepted epic, Parvathi, the creator of Ganesha made an idol and offered life to the idol. 
"The stories are read out to the family every year. It is important as that is how you are spreading the stories so they can go on to the next generation," Katuru said. "We perform Aarti (a fire offering as a part of the prayer) to the lord as well."
     The holiday is widely celebrated in India.
     "When we were in India, we had a big idol for the celebration. We used to celebrate it with many people, and the idol would be brought collectively." sophomore Divya Pottete said.
     Katuru described her experience with how the pandemic had impacted the holiday.
      "The celebration is different this year because of COVID, we can't invite people over to celebrate it," Katuru said.  "Normally, every year we share food and we go to each other's house."
     Many children enjoy the holiday, as it has a lot of fun activities the they get to participate in
     "I like building the idol of the god. I also like listening to the stories," Katuru said.
     A variety of sacred foods are made to be offered to the lord.  
     "We make 'laddus' (sweet balls)," Katuru said. "Different people make different types of food, but most people make 'laddus' since it's the lord's favorite. Other foods offered are 'pulihora' (lemon rice), jaggery, and fruits." 
     Most followers prepare the food at home, in order to show respect to the lord.
     "Along with 'pulihora' and 'laddu', we also make 'vada' (lentil fry) and crack a coconut for religious practices," Pottete said.
     There are many stories regarding Ganesha. One deals with the moon lord .
     "My mom says we shouldn't see the moon, since it is considered bad luck, " Pottete said.
     The holiday lasts a few days. There is a ritual called "nimajjanam" (immersing) that marks the end of the celebration.
     "We immerse the statue of the god in water," Pottete said.
     The next Hindu festival coming up is Dussehra, on Oct.15. This celebrates the victory of good over evil.
View Comments (1)
About the Contributor
Veda Thangudu, Features Editor
Veda is the features editor and a junior at Fishers High School. She's excited for this year of newspaper.