Hispanic honor celebrated during Hispanic Heritage Month
     Sept. 15 marks the anniversary of independence for Latin American countries such as Costa Rica, El Salvador, Guatemala and Honduras. Therefore, it is also the first day of Hispanic Heritage month in the United States. The month strives to recognize the importance of Hispanic people within the United States and celebrate their culture. 
     "[Hispanic Heritage Month] recognizes the great things that Hispanic Americans have accomplished in this country," Spanish teacher Michelle Helmkamp said. "We would not be the United States that we are without Hispanics. They have contributed so much, and oftentimes they're overlooked."
     At first, Hispanic Heritage Month was only a week long. In 1968, President Lyndon Johnson initiated the awareness week in order to appreciate Hispanic Americans who contributed to the country. 20 years later, President Ronald Reagan extended the celebration to a month. 
     "I wish we didn't have to make a month, if it could just be celebrated all the time," Helmkamp said. "But people aren't educated about it, so I guess we have to have a month."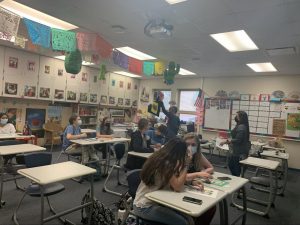 One important aspect of the month is to recognize and celebrate the Hispanic culture, such as their food, traditions, language and history. 
     "I think it's incredibly important for anyone to learn about HHM [Hispanic Heritage Month] because it gives people of Latin descent an opportunity to be proud and have others truly appreciate our culture," junior Natalia Pardo said. 
     The month showcases the importance of diversity in culture and brings people together through pieces of various ethnic inheritances. 
     "[Hispanic] traditions are so rich and food is part of that," Helmkamp said. "It's always very surprising to me how food really brings people together."
     However, Hispanic Heritage Month also recognizes the hard work and impact citizens of Hispanic descent have contributed to the United States. 
     "I wish more people knew that Hispanic Heritage Month is not just celebrating our traditions and customs, but appreciating the work and advancements of hispanics around the world," Pardo said. "We often get stuffed into the background when we have our own achievements that deserve to be showcased for once."
     Helmkamp is one of the sponsors of the Spanish Club, which made sure to celebrate Hispanic Heritage month on Sept. 15 – the start of the month – and Oct. 14 – towards the end of the month. 
     "[Spanish Club] talked about immigrants and then we watched 'In The Heights' with Lin Manuel Miranda, and that includes a lot of [Hispanic] culture," Helmkamp said.
     Not all classes and clubs had the opportunity or resources to talk about Hispanic Heritage Month like the Spanish club did. 
     "For the future, I would love to see HHM taught in schools rather than a quick fun fact that is told on Sept. 15," Pardo said. "I want people to be able to name important Latinos because of Hispanic Heritage Month and understand how they impacted thousands of younger Latinos in the process."
     Those of Hispanic descent have an opportunity to keep their culture close and relevant to them, even when living in the United States, by celebrating and educating themselves and others about Hispanic heritage. 
     "Especially to be here in this country, you don't want to lose your connection to that culture," Helmkamp said. "Gloria Estefan wrote a song called 'Mi Tierra', and it's about how she's [in the United States], but her roots are [in Cuba]."
Leave a Comment
About the Contributor
Malak Samara, Editor-in-Chief
Malak Samara is a junior at Fishers High School. She heavily enjoys law and loves to write, draw, read, listen to music, and hang out with her friends!