Seniors reflect on high school memories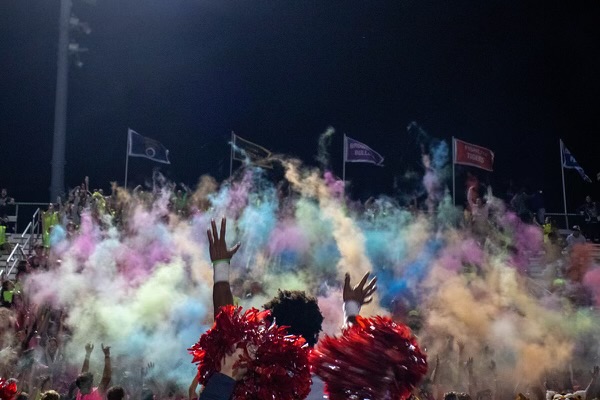 After four years of high school, nearly every senior has at least some memories that define their time at FHS. Whether it be a favorite class, experience, activity or event, graduating seniors will leave the school not just with a diploma, but with countless anecdotes that are deeply personal to them. 
     Senior Matthew Erdosy cherishes the memories he made while cheering on the football team from the student section.
     "The football games were energizing to go to," Erdosy said. "It felt great to be surrounded by friends and have an amazing time being obnoxious and screaming for our football team."
     During his time at FHS, Erdosy also participated in several of the school's orchestras. He remarked that his favorite year in the program was this year.
     "The orchestra concerts, specifically the 2020 winter concert and our 2022 ISSMA state concert, were incredibly fulfilling because they allowed us to showcase the extent of our playing abilities and five the audience an enjoyable concert," Erdosy said. "With that, making it to state this year and placing as one of the top four orchestras in Indiana was phenomenal because it was the highest that the symphony orchestra had ever placed."
     For some students, favorite memories come not from extracurricular activities, rather moments in the classroom. One of senior Anna Herx's fondest memories comes from doing creative art projects at the end of the year with her junior year AP Environmental Science class.
     "We were given the ability to be creative and work independently," Herx said. "We had music playing during our work time, and the whole class was dancing and having well-deserved fun at the end of a tough year."
     Senior Mackenzie Tackett loved silly moments in the classroom, most notably a day where her IB Psychology class punched a "bobo doll."
     "It was very funny and entertaining watching people let out their aggression," Tackett said.
     Other students remembered once-in-a-lifetime events that defined their time in high school. Senior Nevaeh Repp recalled her favorite memory as her senior year prom.
     "Everyone was just reliving their childhood at The Children's Museum and no one was talking in a group," Repp said. "Everyone was talking and connecting with each other and jumping and dancing."
     Some people's favorite moments came just from spending time with classmates throughout the day. Senior Olivia Young says that she will cherish all of the moments that she spent with people during her flex periods.
     "I got to really know some of them and I'll honestly miss the little moments like that even if it was something as simple as grabbing smoothies, helping each other with homework or playing baseball at Billericay." Young said.
Leave a Comment
About the Contributors
Andrew Haughey, Online Editor
Andrew Haughey is the web editor for the FHS student newspaper N the Red. His skills include the ability to drive a boat, play chess, and touch the rim...
Emma Tomlinson, Arts & Culture Editor
Emma Tomlinson is a senior and the arts & culture editor for N the Red. She enjoys hiking, traveling, and eating bow tie pasta.