Unity is the name of the game
Fishers High School students finding passions in lesser known sports .
   Football, cross country, track, soccer, volleyball, baseball and bowling. Of the sports listed, one may have caught you by surprise. These are all sports where Fishers High School has boasted a state championship team. Bowling is just one of the IHSAA recognized unified sports where Fishers not only offers, but excels in 
   "I do [unified] bocce ball, [unified] bowling, [unified] track, unified basketball and unified football," junior unified sports athlete, Ryleigh Gee, said.
   Unified sports are quite unique in both their inclusivity and competing formats.
   "There are a bunch of peers and a bunch of the best buddy kids. For bowling they get their own bracket, and in track they get their own race," Gee said. "There are some brackets in bowling… and some races in track where we are all together in one, but we are all an unified team overall." 
   The unity of these sports go far more than just its namesake. Athletes like Gee find true passions and love for their teammates. 
   "I love working with the kids and hanging out with them, and I have definitely made friends that will last a lifetime," senior unified sports athlete, Kevin McGuire, said.  
   McGuire and Gee have more than just being teammates in common. Both unified athletes at one point played another sport. 
   "I would say unified sports are a more positive enviornment, I do not want to say that [basketball] is not," Gee said. "[Unified sports] is just as competitive, but it is more looking out for everyone, not just yourself," 
   Although competitive, Gee and McGuire both know at the end of the day it is not about their success. 
   "For unified it is more all about having fun and bonding with the kids and trying to have them have the best time out there possible," McGuire said. 
   Unified sports has impacted the lives of everyone involved. As the team transitions into the unified football season, they will continue to stay united and have fun.
Leave a Comment
About the Contributor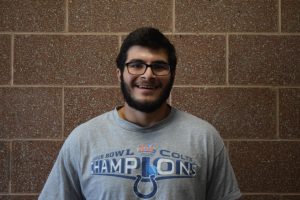 David Jacobs, Reporter
David Jacobs is a senior at Fishers High School and is a reporter for the Tiger Times. He plays football and throws shot put/discus for track.