Measuring up to models
Constant body centric 'trends' make it impossible to keep up.
Katrell Readus is a junior and Opinion Editor for the Fishers Tiger Times. Their views do not necessarily reflect those of the newspaper.
   Thanks to a repulsive, Nov. 2  headline by the New York Post, the term 'heroin chic' (two words that do not belong in the same sentence) has been brought back just in time to completely dismantle strides in body positivity movements.
   The article entitled 'Bye-bye, booty: Heroin chic is back,' proceeded to explain how famously curvy stars, like Kim Kardashian, are losing weight, while thinner models, like Bella Hadid and Kaia Gerber, are taking their industries by storm. This article by the Post goes as far as comparing the revival of this 1990s norm to the return into style of Uggs and low-rise jeans.
   The term entered its toxic circulation through all rungs of societal ladders in response to model and addict Gia Carangi, who later died in 1986, leaving behind her body type as the must-have symbol for defiance for the upcoming decade and generation. Like grunge and indie rock, 'heroin chic', in its original form, served as an anti-fashion criticism of the typical power dressing style in the 80s, a style that the young and underprivileged members of Gen X (1965-1980)  believed brought a sense of false hope and ideals. With styles like these they could highlight the disjointed and disheartening world they found themselves inheriting from predecessors. This feeling of being forced into a dysfunctional society is something that can be seen in our world today.
   The characteristics of this physic are pale skin, under-eye circles, and being unhealthily thin. These features that act as the backbone to this 'aesthetic' are the exact characteristics evident in those addicted to the namesake substance. 
   The resurgence of this aesthetic also brings about the reversal of the previously progressing body positivity movement. An occurrence that came just as the world started to see real change in its expectations for the female body. This particular call for societal development shares roots with the fat acceptance movement of the 1960s. The National Association to Aid Fat Americans an active organization founded in 1969 focused on campaigning for equal rights for people of higher weights and criticized the diet industry. It is from here the modern movement was born. Research from 2021 notes that the movement emerged on Instagram in 2012, but only recently became incredibly popular, accounting for 13 million social media posts by 2020. 
   Beyond its history, the movement has continued to evolve from the understanding that strict, negative and demeaning messaging about appearance, often put out and facilitated by celebrity influences, are emotionally, physically and psychologically damaging. This is in direct contrast to the narrative being pushed yet again in this new era of 'heroin chic', once again altering the standard for women hoping to fit in, shifting its preferences from the previous precedent of hourglass figures to spindly statues and emaciated features of this recent revival. 
   This 'trend' and its horrifically insensitive name not only glamorizes deadly drug addiction and portrays them as a fashion choice but further confuses and alters the self-images of women just trying to survive in the forever-changing industry that is the destruction of feminine self-worth. 
Leave a Comment
About the Writer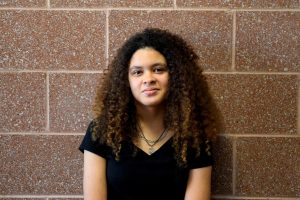 Katrell Readus, Opinion Editor
Katrell is a junior at FHS. They are an overthinker who enjoys listening to music and writing poetry when they are not too focused on their upcoming article.