Not my Heisman
2022 Heisman finalists epitomize the awful new meaning to a cherished award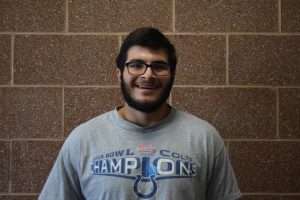 More stories from David Jacobs
David Jacobs is a senior and a reporter for the Fishers Tiger Times. His views do not necessarily reflect those of the newspaper.
   In my lifetime I have grown to love college football and the yearly competition for the Heisman Trophy. As the conference championships come to an end and the bowl games begin, Heisman finalists and Heisman winners get announced. According to Heisman.com, the official website for the Heisman Trophy, the prestigious award is given to the most outstanding college football player. The key word here being, "player," which means there are no position limitations. There are 22 different offensive and defensive positions, with players split evenly among the two. Meaning the Heisman trophy should be split up roughly 50/50 as well, however, that is far from the truth. 
   Charles Woodson is the only defensive player to win the Heisman Trophy, which he accomplished in 1997, 62 years after running back Jay Berwanger won the inaugural award in 1935. According to Sports Reference, it took Woodson a seven-interception season that included a punt return touchdown (TD), three offensive touchdowns and a 28-yard passing completion to win the award. 
   Following Woodson's brilliant 1997 season, the Heisman was won by running backs Ricky Williams and Ron Dayne in 1998 and 1999, respectively. At the turn of the century, is where the downfall began. Since 2000, 18 of the last 21 winners have been quarterbacks, with the anomalies being 2009, 2015 and 2020. With those years being running back Mark Ingram in 2009, running back Derrick Henry in 2015 and wide receiver DeVonta Smith in 2020.
   So let's look at exactly what these non-quarterbacks have to do to win the trophy. In 14 games, the sophomore running back, Mark Ingram, put up 271 rushing attempts for 1,658 yards and 17 touchdowns while snagging 32 receptions for 334 yards and three additional scores. This was good enough to beat out the 2009 finalists of fellow running back Toby Gerhart, quarterback Colt McCoy and defensive lineman Ndamukong Suh. In 2015, junior Derrick Henry had 395 rushing attempts for 2,219 yards and a whopping 28 rushing touchdowns while contributing little to none on the receiving game with just 11 catches for 91 yards. These numbers enabled him to beat out running back Christian McCaffrey and quarterbacks Deshaun Watson and Baker Mayfield. Finally, in 2020, senior wide receiver DeVonta Smith had 117 catches for 1,856 yards with 23 touchdowns and an additional score on a punt return. These numbers were able to beat out quarterbacks Trevor Lawrence, Mac Jones and Kyle Trask.
   Now, let's take a look at this year's Heisman finalists that include Georgia quarterback Stetson Bennett, TCU quarterback Max Duggan, Ohio State quarterback C.J. Stroud and USC quarterback Caleb Williams. According to Vegas Insider, Caleb Williams is the overwhelming favorite to win at -1600, with Max Duggan (+1600), Stetson Bennett (+3000) and CJ Stroud (+4000) rounding out the list. This is just the third time since 2000 that all top-four vote-getters have been quarterbacks. With how much I dislike the current state of the Heisman, they at least include a non-quarterback as part of the finalists, except for this year. So, let us look into this year's options and some potential replacements I would have made to the list. 
   Starting with the betting favorite, Caleb Willams, a sophomore quarterback and a first-year USC starter after transferring from Oklahoma, has thrown for 4,075 yards on 296 of 448 passing (66.1%) with a nation-leading 37 touchdown passes against just four interceptions. His passing yards are fourth-most nationally and his quarterback rating (167.94) is fifth-best. Williams, who led USC to an 11-2 season after the Trojans went 4-8 in 2021, is third nationally in total offense with 4,447 yards, a total that broke USC's school record (4,225, 2017). He has also rushed for 372 yards on 109 carries with a team-best 10 TDs. Williams' school record 47 total touchdowns lead the country, as do his 282 points responsible. He threw for over 300 yards seven times, including twice over 400 yards.
   The next finalist is Max Duggan, who has been in the media spotlight after a gut-wrenching loss to Kansas State in the Big 12 championship that saw him have his worst passing performance of the season, but display one of his best rushing outings with 15 carries for 110 yards and a score. Duggan, a senior quarterback with 41 career starts at TCU, completed 239 of 368 passes (64.9%) for 3,321 yards and 30 touchdowns with just four interceptions. He also rushed for 404 yards and another six scores, leading the Horned Frogs to a 12-1 season and their first-ever berth in the College Football Playoff. His 30 TD passes are the third-most in school history. Duggan passed for over 300 yards five times and had three or more TD passes in a game seven times.
   A finalist last year, CJ Stroud, a redshirt sophomore quarterback, and second-year starter, completed 235 of 355 passes for 3,340 yards (66.2%) with 37 touchdowns and six interceptions while leading the Buckeyes to an 11-1 record and a spot in the College Football Playoff. He leads the nation in yards per play (8.75) and quarterback rating (176.25), his 37 TDs are tied for first nationally while his 9.4 yards per attempt are third-best nationally. The Buckeye offense Stroud leads is No. 2 nationally in scoring (44.5). He passed for over 300 yards five times and tossed five or more touchdowns in a game four times, including a season-best six at Michigan State. He is also the first quarterback in Big Ten history to have back-to-back 30-touchdown seasons. 
   Last, and possibly also least, is walk-on-turned-starter Stetson Bennett. A senior quarterback, who completed 269 of 395 passes (68.1%) for 3,425 yards and 20 touchdowns with six interceptions while rushing for another 184 yards and seven touchdowns, he has led Georgia to a perfect 13-0 regular season and the 2022 SEC title as well as the top seed in the 2022 College Football Playoff. Bennett, who led the Bulldogs to the 2021 national title and has quarterbacked them to 15 straight wins, threw for over 300 yards four times this year and completed at least 70.0% of his passes in a game five times.
   The three seasons described prior to Bennetts, are worthy of Heisman consideration, but 20 touchdowns just does not cut it for a Heisman-caliber season. With all things considered I have composed a list of non-quarterbacks that I will call the "Next Best," award. My Next Best finalists that all deserved a spot over Stetson Bennett include Michigan running back Blake Corum, Tennessee wide receiver Jalin Hyatt, Alabama linebacker Will Anderson Jr. and Utah cornerback Clark Phillips. So, let us take a look at these options that all would have made for a better option than Stetson Bennett. 
   Starting with a front runner for the Biletnikoff award, given to the most outstanding receiver, Jalin Hyatt had 67 receptions for 1,267 yards and 15 touchdowns. His receiving yards rank fourth in the nation and he led the nation in receiving touchdowns as he helped Tennessee to a 10-2 record. Hyatt had five games over 100 yards that included a six-reception, 207-yard, five-touchdown performance against top-ranked Alabama at the time. His 18.91 yards per catch is top 15 nationally and ranks second in receivers who have over 1000 yards. 
   Junior running back Blake Corum was on a tear before suffering an injury against Illinois and being forced to just a hobbled two carries for six yards in his last game against Ohio State. Still, Corum was top eight in rushing yards with 1,463 and top five in rushing touchdowns with 18. On the season he had 247 carries for 1,463 yards and 18 touchdowns. Before the Ohio State game, Corum had eight straight games with at least 100 yards that include 243 against Maryland and 177 against Michigan State. Corum's efforts still helped Michigan go undefeated and get the number two seed in the College Football Playoff. 
   Alabama linebacker Will Anderson Jr came fifth in Heisman voting last year and had another great season this year. Although he had a drop off in production, Anderson Jr. already won the Lombardi Trophy which is awarded to the nation's top player and the Nagurski Award which goes to the nation's top defender, which according to ESPN he also won last year. The junior linebacker had 51 total tackles with 17 being for a loss of yards, 10 sacks and an interception returned for a touchdown on his way to helping Alabama to a 10-2 record. 
   The last man on my Next Best list is Utah lockdown cornerback Clark Phillips. Phillips recorded six interceptions on the season including three against Oregon State. The corner also turned two of his interceptions for scores, one of which was an 80-yard-pick-six against UCLA. Phillips chipped in 24 tackles on the season helping Utah to a 9-3 record and a trip to the Rose Bowl. To add a cherry on top, with a 90.2 Phillips also graded out as the highest coverage cornerback according to Pro Football Focus.
   There are at least three more qualified players that should have gotten an invitation to the Heisman Ceremony happening on Dec 10. Stetson Bennett not only should not have gotten consideration for the Heisman, but he does not deserve any position or conference awards either. When it comes to college football, future NFL prospects should excel and have outstanding stats. But when it comes to Stetson Bennett, there is just nothing outstanding about his play.
View Comments (2)
About the Contributor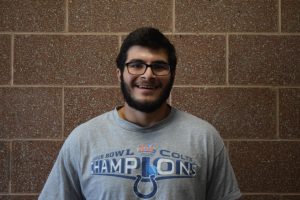 David Jacobs, Reporter
David Jacobs is a senior at Fishers High School and is a reporter for the Tiger Times. He plays football and throws shot put/discus for track.