He shoots, he scores
How high-scoring performances are ruining basketball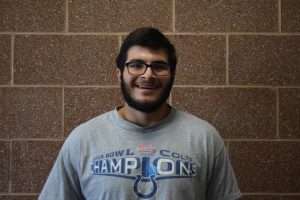 More stories from David Jacobs
David Jacobs is a senior and a reporter for the Fishers Tiger Times. His views do not necessarily reflect those of the newspaper.
    The National Basketball Association (NBA) is a forever-evolving league for a sport that changes each generation. For this reason, arguments like the Greatest of All Time (GOAT) are never-ending because each decade gets dominated by a different element in the game of basketball. This decade's trends have shown to be high-scoring and fast-paced offenses paired with carefree and lackluster defense. I am by no means saying that watching a player go off for 40 or 50 points is bad for the sport, but when every night you have a player going off for 40 or 50 points, you have a problem. High-scoring performances like these are supposed to be a dime a dozen, but according to ESPN, as of Jan. 7, there has been a 40-point performance every night of NBA action dating back to Dec. 11 of last year. Which includes nine 50-point performances and a 71-point game by Donovan Mitchell, which has earned the record of the 8th highest-scoring performance ever. When high-scoring outputs occur this frequently it ruins the scarcity of the event and takes away from the accomplishment. Being able to score 40 points against the best players in the world should be celebrated, but there is no point to celebrate every night. 
    According to Basketball Reference, a reputable site for all levels of basketball statistics, there have been 566 50-point games in NBA history since the anomaly of Wilt Chamberlain, who has accounted for a whopping 118 of those games, let us subtract him out of the equation and call it 448 games. This may sound like a lot, but with 82 games a season for the majority of the game's existence, there have been roughly 128,386 games and counting according to StatMuse. This means roughly .3% of games have had a 50-point scorer in NBA history; however, with 14 50-point games occurring already this year the scoring milestone has become 5 times more likely this season than the historic average. With the inclination of offense and declination of defense, there must be a source to all of it. 
Efficient offense = inefficient defense and vice versa
    The cause of this scoring eruption is one of two things: historical offensive talent currently playing in the league or a historical lack of defense. So far this season there are six players scoring 30 points a game, and two others averaging 29. Ten years ago, in the 2012-13 season, not a single player averaged more than Carmelo Anthony at 28.7 a night. Ten years before that, in the 2002-03 season, Tracy McGrady and Kobe Bryant were averaging over 30 points a game, but outside of the two all-time greats, the next best was Allen Iverson at 27.6. The real kicker, though, is the team scoring. This season, 27 of the 30 teams are pouring in at least 110 a game with the bottom three teams still scoring no less than 108. In the 2012-13 season, no team scored more than 106 points a game, with 11 teams over 100 points a game, and in 2002-03 just four teams scored more than 100 points on a nightly basis. One contributor to this scoring eruption is the percentage of shots being made. This season 27 teams are shooting 45% or better from the field, while in 2012-13 11 teams shot 45% or better and nine teams in 2002-03. However, this is more than just the shots starting to fall, there is a lack of defense and that is the reason for the scoring surge. In the 2002-03 season, there were 27 players averaging over 1.5 steals a game and 20 players averaging over 1.5 blocks a game. Ten years later, there were 20 players averaging over 1.5 steals and 17 players averaging 1.5 over 1.5 blocks. As of today, there are just 11 players averaging over 1.5 steals and only eight players averaging over 1.5 blocks. Players like Dennis Rodman, Ben Wallace and Gary Payton used to take pride in their defensive efforts and at times would be the only reason they were playing in the NBA, but now if you have defensive prowess you need a three-point shot to pair. 
Evolution of the three-point shot
    The evolution of the three-point shot has changed the game. In the 2002-03 season just one team attempted more than 25 threes a game. The 2012-13 season was not much different with two teams attempting 25 or more. This season; however, has seen all 30 teams attempt at least 25 and 29 teams attempting more than 30. The three-point shot is hardly at fault for the scoring though, as each decade has its own identity. The 2000s were dominated by big men like Shaquille O'Neal, Tim Duncan, David Robinson, Yao Ming and Dwight Howard. The 2010s were dominated by the mid-range with Kobe Bryant, Carmelo Anthony, Kevin Garnett, Dirk Nowitzki and Kevin Durant. While starting in the late 2010s, this decade is highlighted by elite perimeter guards and wings like Steph Curry, Luka Doncic, Trae Young, Jayson Tatum, Donovan Mitchell and Devin Booker. 
Officiating and rule changes
    Another answer to the offensive surge and defensive plunge may be that the rise of offense is the fall of defense and vice versa, but I believe there is a core source of officiating. Referees have become offensive friendly allowing for two steps and a gather when driving to the basket rather than a strict two, getting rid of defense committing an intentional foul in transition and although for the good, eliminating flopping from defenders has given the offense even more of an advantage. According to the DeseretNews, older rule changes have included removing hand checking in 2005 which allowed the defense to have a hand on the ball handler's hip which enabled them to stay in front easier and instant replay modifications occurred every year from 2007-15. In 2017, timeouts were reduced from nine to seven per game and in 2018 reset to 14 seconds after an offensive rebound rather than 24, which forces a faster tempo. 
    Whether it is the changing of an era in the NBA or simply the way the game is officiated, all we can do at the end of the day is enjoy the scoring because this offensive output is not going to change for a long time.
View Comments (1)
About the Contributor
David Jacobs, Reporter
David Jacobs is a senior at Fishers High School and is a reporter for the Tiger Times. He plays football and throws shot put/discus for track.