Removing the price tag on periods
FHS clubs stock restrooms with menstrual products
    In a recent move to combat menstrual inequality, many women's restrooms across the school now house storage containers that hold several menstrual products including pads, tampons and underwear.
    The initiative was a joint effort by the Million Meal Movement and Student Alliance for Equity (SAFE) clubs. Freshmen Isobel Shailes has been involved with the project through her participation in SAFE.
    "I was not part of the initial idea of it, but I have heard that it was [to combat] the negative stigma around periods," Shailes said. "We wanted to try  and normalize it and make it less awkward, and we wanted to be able to provide the resources for that."
    The product stations have quickly popped up in restrooms across the school, and are entirely taken care of by students.
    "SAFE and Million Meal Movement put stations in a few different bathrooms," Shailes said. "There's probably around 10 of them by now, I would guess. Then we split up each of the bathrooms and we monitor them and restock them when needed."
    Senior Neo Von Eiff has found the stations to be convenient for a multitude of reasons and appreciates no longer having to visit nurses' office when in need of a product.
    "It's a lot more private and it's easier for people when they're in the bathrooms," Von Eiff said. "Paying for [products], in those dispensers [was not useful] because nobody carries coins around and those are not good products either."
    According to Alliance for Period Supplies, there are currently 16 states that have passed legislation requiring schools to provide free menstrual products on campus. Shailes believes the low number is due to a negative stigma about menstruation.
    "I think it's because there really is [no] awareness about it," Shailes said. "People like to keep menstruation stuff on the down low and no one really likes to talk about it. I feel like people are almost scared to bring it up."
    For Von Eiff, accessibility to products should not just be at school, but in public restrooms everywhere.
    "It's just a part of life and nobody wants to have a period," Von Eiff said. "It's just something that happens, and putting a price on it feels unneeded."
Leave a Comment
About the Contributor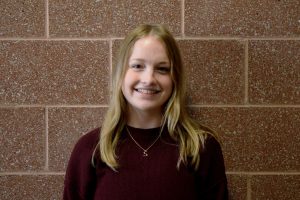 Sophia Krueger, Reporter
Sophia is a senior at Fishers High School. She enjoys playing violin and watching sports.