New boys volleyball club
Sprinting back and forth during warm-ups, scrimmaging with his team and hitting the floor as he makes a split second decision to save the ball, junior Adam Hoernschemeyer realizes exactly how much interest he has for volleyball.
Not only does Hoernschemeyer enjoy volleyball, he also finds an outlet from school and is able to have fun without the competitiveness. When practicing, he finds that it is more fun when they are not worried about competitiveness and instead focus on the fun they first experienced in Feb.
"[This began] because I participated in the winter sports week tournament and had a lot of fun, so we wanted to continue that," said Hoernschemeyer.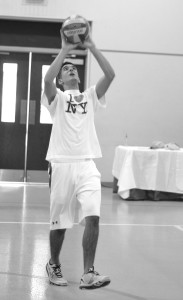 Not only was Hoernschemeyer enthusiastic on beginning this organization, English teacher Glenn Seland was enthusiastic in starting this club with the rest of the students who showed interest. After playing in high school and college, Seland began coaching volleyball when he lived in New York.
"The one varsity letter I received from high school was from volleyball," said Seland. "I coached boys and girls volleyball before and I was excited to help these guys better their skills and get back into coaching."
Seland and the players all agreed to conduct their practices as if they were a real team, warming up, executing their drills on skills and scrimmaging toward the end to improve their teamwork and camaraderie.
The number of participants has also been going up slowly and Seland is hopeful that more guys will be interested in joining the club.
Junior Chandler Ames also participated in the winter sports week tournament and after all the fun he had, it was an easy decision for him to join the team with his friends and be one of the first set of people to start the club. Ames explains that Seland and the rest of his winter sports week team discussed creating a club. The guys volleyball coach at HSE offered to play a game against them when he heard they had established a team, but he believes it is going to take some time for them to prepare.
"The best part of volleyball club for me is when I get a good set and someone follows it with a spike," said Ames.
Teammates of Ames are able to become better friends and he explains that they can ask Seland for pointers whenever they have a question during their scrimmages.
With Volleyball Club practicing Tuesdays from 3:30-5:30 p.m. at Crossroads Community Church, the guys have been working to build their skills while still having fun. Seland and the rest of the team looks forward to more people joining, explaining that the club is open to any high school guy of any skill level.
"We don't focus our time on winning anything; we just want to have fun," said Seland. "Any guy that wants to participate is very welcome to come along and join us in the fun."
Hoernschmeyer has some ambitious goals for the club and is hoping for it to grow within the next coming months, with the ability to have it continue for years to come. He is focused on giving other students the knowledge about how much effort it takes to get better at the sport.
"I want to reach the point to where there is a good enough attendance so it will continue after the current juniors and seniors graduate," he said. "I just want everyone who joins to have a great time."