Hairspray sells out on Friday and Saturday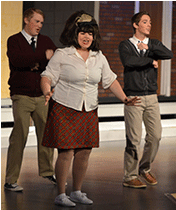 75 student helped make "Hairsprays" debut onto the stage, which captured the audience's attention with the cast's singing, dancing, and acting. The production took place from Nov.15 to the 17 and sold over 2,659 tickets.
Audience members filled up the auditorium, creating a large turn out all three nights of the performances, both Friday and Saturday were sold out. Senior Becca Heldman was with her friends when she saw the musical Saturday night.
"I really liked the set of the musical and I feel that it followed the storyline [from the movie version] well," Heldman said. "My favorite scene was when all the girls were in jail and they were singing 'Big-doll house' ."