Once storm clears, Mudsock Trophy lands at FHS.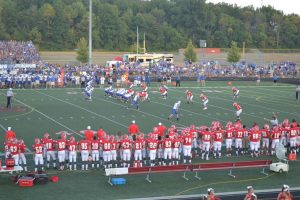 The 8th annual Rumble in the Jungle took place at Reynolds Tiger Stadium last Friday, as the HSE Royals faced the FHS Tigers. After two separate weather delays paused the game, FHS emerged victorious. The Tiger victory came with a final score of 51-31.
The Royals jumped out to an early 14-0 lead in the first quarter. FHS managed to tie things up at 14-14 during the second quarter, and the first half was a back and forth battle from then on, with HSE leading 24-17 at halftime.
At the end of the first half, the stadium was evacuated, due to a storm warning in the area. The game was paused for an hour.
Once the game started up again, FHS managed to score eleven unanswered points over the span of the third quarter, and half of the fourth. With about six and a half minutes remaining in the fourth, and FHS up 38-24, the game was once again stopped due to lightning. The game was postponed until ten o'clock the next morning.
Even with the postponement, plenty of FHS fans were in the stands the next morning, as the Tigers continued their push for a victory. Fishers scored on the very first play of the morning, with running back Maurice Campbell rushing for a 77 yard touchdown. Then, on HSE's first possession, FHS linebacker Griffin Hulecki forced a fumble and returned it for a touchdown to put Fishers up 51-24. FHS would end up winning the Mudsock trophy for the first time in five years.
FHS quarterback Connor Christiansen had mixed emotions after being sent home on Friday.
"It was weird. I was excited with how the team was playing, but I didn't want to get too confident because there was still a lot of time to play," Christiansen said. "Remember just last year, we had 42 seconds left and we were up two touchdowns and we ended up losing. I knew it wasn't over."
Christiansen also praised the FHS student section during Friday's game.
"They were huge! Just hearing them got us pumped up," he said. "A big thank you to them for coming out and supporting us.  We really need them the rest of the season just to support us because they are such a big part of our success.  We go where they take us."