World language classes may seem pointless and frustrating  to many students.  In Indiana, however, students are required to take a few world language classes in order to graduate.
"
"I actually graduated with a psychology degree and I ended up going into teaching and I had a lot of job opportunities as soon as I graduated because I was bilingual," Spanish teacher Julie Tobias said.
Spanish teacher Sarah Druelinger said that she had applied her second language in more ways than just teaching.
"I've traveled out of the country numerous times," she said.  She also added that she could help translate for people in local areas.
According to Tobias,applying a new language can be as simple as joining the French, Spanish, or German Club.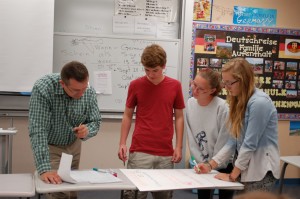 "I think that taking a world language is beneficial," fourth year honors French student Caleb Heidorn said.  "It gets you into good study habits."
Learning a world language can even improve your listening skills and focus, said Tobias, adding that much grammar covered in world language classes can be helpful both in English and on the SATs.
I think learning a world language can be very important," Tobias said. "It gives you the ability to communicate with a whole new set of people you would have been closed off from before."
Submitted by guest contributor Anna White