"
"There is not much I would change. We fought until the end and, unfortunately, did not get the results we had hoped for," FHS senior center back Molly Gorgol said. "I will definitely miss my teammates and coaches most. We've all become so close and had an amazing season together."
The FHS Tigers took on the Avon Orioles in the Girls Soccer State Championship game on Sat. Nov. 2 at Michael A. Carroll stadium on the campus of IUPUI. The Tigers, ranked 5th, came into the game with a record of 16 wins, 2 losses, and 3 draws. The Orioles, ranked 2nd, came into the game with a record of 17 wins, 1 loss, and 2 draws.
The game went into overtime in a 0-0 tie, with Avon having 10 shots on goal in regulation, while Fishers had 4 shots on goal in regulation.
With a minute remaining in the first overtime period, Avon's Cassidy Blacha was able to break the tie on a corner kick goal. The Tigers were not able to score in either of the remaining overtime periods. Their season ended in a 1-0 loss in the team's first appearance in the state title game.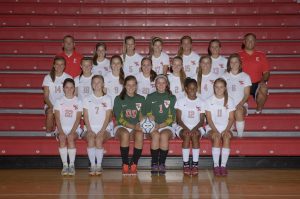 "There is not much I would change. We fought until the end and, unfortunately, did not get the results we had hoped for," FHS senior center back Molly Gorgol said. "I will definitely miss my teammates and coaches most. We've all become so close and had an amazing season together."
FHS ended their season having made its first ever appearance in the sectional championship, as well as semi state and state. The Tigers finish the season ranked 5th in the state and 19th nationally, according to MaxPreps.com. The seniors leaving the team are goalie Morgan Hammon, center back Molly Gorgol, right midfielder Zoey Cseresznyes, and right back Natalie Brooks.