Performing arts fall concert shined bright
All six choirs prepared and worked hard to make the fall concert the best it has been. During class everyday as well as practices after school, the choirs danced and sung as they prepared to entertain their audience.
"
"We have been practicing and memorizing our lyrics and we have started to stage our appearance from the concert," junior Kashi Wallace said."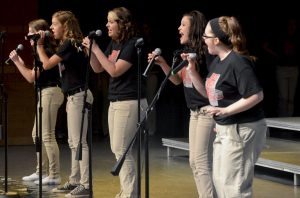 According to Wallace the choirs believe they were well prepared considering they started practicing in the summer.
"We do tons of vocal sighs, and lip bubbles in the choir I am in, Silver Classic," Wallace said.
Just one of the multiple ways the singers warm up, vocal warm ups. There are multiple ways that choir teachers Greg Johnson and Jen Vrabec go about making sure their students are ready for the fall concert.
Wallace was most excited about the music they have learned this season. In Silver Classic, the students were singing the gospel song, "Worthy To Be Praised."
"I love that we sung gospel music, because gospel music is definitely my thing. Plus my mom was the accompanist so it was cool to have two Wallaces on stage," Wallace said.
With many family members, friends and peers sitting in the crowd the performing arts department was ready to leave them speechless Oct. 3.