Wrestler's working hard for their team
To help pay for the Fisher's wrestlers equipment, the team has created a fundraiser called Rent-a- Wrestlers (RAW). RAW is a way the wrestlers earn money for their trips to matches, hotel rooms, and to pay for  wrestling equipment. On Oct. 19 and 20, the wrestlers went to neighborhoods around the Fishers area and did yard works such as: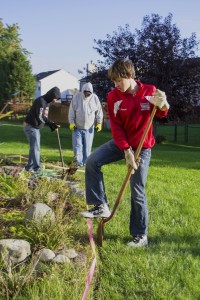 raking

painting houses

mulching

cutting branches

walking people's dogs

moving furniture
"
"Learning how to do yard work teaches me discipline, meet new people by learning how [socialize]," senior Lance Syverson said."
Seniors were paired up with underclassmen to show leadership skills and pass on the idea of being leaders so freshman and sophomores know how to lead their team and understand how to work together when they get older.
"(At the end of the day) I feel pretty good knowing that I helped them out," junior Ryan Padget said.