Starstruck: The middle of nowhere just go a lot more interesting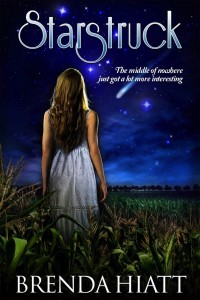 Marsha Truitt was not the most popular girl in school. Marsha was kind of a nerd and was an astronomy geek. When her adoptive parents passed away, she was left in the care of her uncle Louie and strict aunt Theresa. Marsha, or M as her best friends call her by, is lost in the middle of nowhere. She has no idea who she is since she lost her parents at a young age and her own aunt  barely knows who she is. Marsha gets bullied at school and she is been teased by not only by her arch enemy, Trina Squires, but by her aunt as well. She is ready to leave Jewel, Indiana and stay clear from it as well.
Everything changes as soon as a new student who is also the new "candy" quarterback of the football team, Rigel Stuart. All of sudden, Marsha can not stop staring at him or stop thinking about him. All the cheerleaders, even Trina, throw themselves at Rigel and he does not pay any attention to them. His eyes were set on Marsha and befriends her right before Marsha's eyes. The two of them were inseparable and Marsha starts to change. Her eyesight is clearer and her acne starts to clear up. Whenever Marsha and Rigel touch an electric spark happens, not internally, but physically.
Secrets start to come pouring out and Marsha finds out more about herself and about Rigels that no one would ever believe. Turns out that Marsha is not even from earth, Mars to be correct. Rigel happens to be a martian as well and the two of them share a secret bond that no one could know about. Marsha's life is not only interesting but is endangered as well. Martians' from Mars are looking to assassinate Marsha before she takes her place on the throne, since she is a princess from Mars.
Brenda Hiatt, the author of 17 novels of regencies and historical fictions, has launched her first-ever young adult novel has been out on sale on ebooks, amazons, Barnes and Noble nook and print, smashwords and ibooks. The print and ebooks are on sale and this offer starts on Nov. 22 to the 29.
Starstruck is an attention grabbing, insightful fiction story, if anyone wants to read a science fictional love story, Starstruck is your book. Although Hiatt used the typical mean cheerleader who happens to be very popular and a geeky science freak who is the main character, she made me pick sides and laugh at the Triana's jealously when Marsha gets all the attention at school. Hiatt keeps you wanting more at the end of every chapter and I could not put it down! Being in the life of M it started as a shy, lost teenage girl but in the end she ends up being a confident, brave girl. The suspense in this story does not stops, read this book, I highly recommend it to everyone. You will not want to put the book down!