Ski and Snowboarding Club pertains to all skill levels
"
"We're strictly a club designed to go skiing and snowboarding. For nothing else," social studies teacherRobert Hoffman said."
During the winter season, the Ski and Snowboarding Club offers students excited about the sport opportunities for ski trips to Perfect North Slopes, located in Lawrenceburg, Indiana, just outside of Cincinnati. The club typically meets four times throughout January, but due to weather conditions causing a missed meet, the season has been extended one week into February.
Students occasionally meet in room B206 for informational meetings to collect paperwork and permission slips; however, this is not what the club does primarily.
"We're strictly a club designed to go skiing and snowboarding. For nothing else. We don't do fundraisers, we don't do community service projects. We strictly meet on Friday nights four times in January for the sake of having fun skiing and snowboarding," social studies teacher Robert Hoffman said.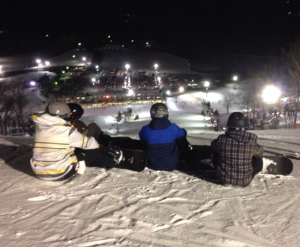 On the way to Perfect North Slopes, the club uses a charter bus in which members can store their skiing and snowboarding gear in the coach beneath the bus. Prior to a ski trip, students may store their gear in the school or in their own cars.
Skiers and snowboarders of all skill levels are welcome to join.
"The members don't need to be experienced. As part of the package deal of their joining the club, lessons are offered free by Perfect North  based on your ability. You could be a beginner or you could be an advanced skier. You can always learn something new," said Hoffman.