Tigers top Westfield on Senior Night
In the last home football game of the regular season, the Tigers hosted the Westfield Shamrocks who stood at 4-3 coming into the night.
Senior Zach Eaton's quarterback keeper for a touchdown on the Tiger's first possession gave FHS an early 7-0 lead. On Westfield's first possesion, senior cornerback Josh Lloyd chased down the Shamrocks' quarterback, who was on his way to the endzone. Lloyd strip-tackled the QB on the run, setting up for what would become a Tiger's punt.
After holding the 'Rocks on defense, Lloyd made another appearance, this time as a punt returner, and ended up taking it all the way back for another FHS touchdown. The very next drive for Westfield, sophomore safety R.J. Potts intercepted a pass and returned it for a touchdown.
The Tigers would score two more times in the half, both from Eaton (one through the air, the other on the ground). FHS was up 35-0 at halftime.
To start the second half, the Tigers had yet another interception, which led to an eventual field goal.
Westfield was finally able to get on the scoreboard after blocking Lloyd's punt which gave them the ball on the Tigers' 14 yard line.  They scored on a QB run, and the Tigers went on to win, 38-7.
Being a senior himself, Lloyd was happy to get the win in such a dominating fashion on Senior Night.
"It's awesome honestly. I can't really describe the feeling just being out here with my friends. It was a good overall team win," Lloyd said.
With only one regular season game left on the schedule, Lloyd thinks winning will help heading into the postseason.
"I think that'll be a momentum game going into the playoffs. Just keep things rolling; head into sectionals and get a conference championship," Lloyd said.
At 6-2, the Tigers are currently tied for first in the Hoosier Crossroads Conference with Avon, who have the lead after beating FHS Sept. 26. If the Tigers beat Zionsville on Friday and Avon falls to Noblesville, FHS will take home the conference championship.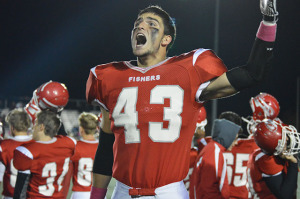 On Oct. 24, the Tigers will host Hamilton Southeastern in their sectional matchup.