Model UN gives practice in diplomacy
Justin Horbett, Guest Writer – Model UN is led by students as a representation of the real United Nations. It is a club where students are assigned countries and have to act as the countries would in reality. Students who participate are given a topic, or a problem, and have to find a solution to that problem, based on their country's personality.
"There's a lot involved with the club, and a lot of research that goes into it," junior Wilson Wolf said.
Model UN is sometimes called a place to argue or a debate center. It is more than this, though.
"I really feel like Model UN gives people the ability to speak better in front of large groups of people, like anywhere from 30-250, depending on what conferences you go to," Wolf said.
English teacher Jennifer Gabbard and social studies teacher Jenna Pritchard sponsor the club. They meet every Tuesday after school until 4:00 p.m.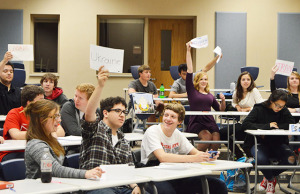 "My sisters all did it, and they liked it, and it sounded like fun, so I did it, and now I love it," Wolf said.