Reading Tigers goes to Sand Creek Elementary
Brye Meyer, Guest Writer – Reading Tigers is a program where high schoolers go over to Sand Creek Elementary after school, on Wednesdays, to help fourth graders read. This program was possible because of librarian Renee Isom and Sand Creek Elementary librarian Laura Collier, as well as club president, senior Alicia Macchoine.
"I just saw a benefit of kids being read to," Isom said.
Isom had been an elementary school teacher before being a librarian. She started Reading Tigers with the goal of helping kids gain essential reading skills. Macchoine says that another goal is to lessen the gap between generations.
"I knew kids looked up to high schoolers," Isom said.
Isom communicates new club information to Macchione, who passes it to the high school students and Collier. Even though Macchione is just a student, the effectiveness of the program mostly lies on her shoulders.
Fourth graders are not the only ones who benefit from the program. Teens learn how to be better role models to their siblings and others. The fourth graders in the program are hand-picked by their teachers. They either have reading challenges or behavioral issues; these are the kids that would most benefit from the use of a role model.
"Reading Tigers forces teens to realize that they will always be a role model for people whether they want to be or not," Macchione said.
The program hopes to continue to build relationships between high school students and elementary students. The improvements Reading Tigers is making include the use of evaluation sheets and making the program more effective.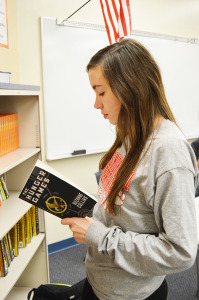 To get involve in Reading Tigers, students can talk to Isom in the media center. Students can also listen to announcements close to winter break because more will be wanted for the spring semester.
veronica garberding