Emily Baumgartner- Although the Tigers did not compete, they hosted a competition involving other Indiana high schools on Sat. Jan. 24. The competition had more than 10 teams participating. The Tigers performed in exhibition, meaning they did not score points. For the all women category, the Noblesville New Dimensions took first place and the Chesterton Sandpipers won it for the mixed category.
"My favorite part of the season is that we got to host our own competition. I got a chance to see all my friends I've made from other schools," Junior Savannah Bratcher said.
Both the unisex and mixed show choirs compete together throughout the season. Their first concert is on Feb. 7th against Northrop High school. For more information on upcoming show choir events, visit the school calendar: www.hsecalendars.org.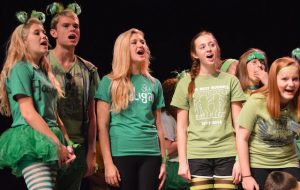 "I'm really looking forward to our show at Northrop. We will see a lot of familiar faces that are always fun to compete against," Bratcher said.