Girls basketball win on Senior Night
Mitch Lorkowski– The girls varsity basketball team faced off against the Pike Red Devils on Fri. Jan 30 for Senior Night.
Seniors Adrianna Murphy(PG), Brooke Sugg(SG), Abby Mozingo(SG), Kara Gerka(PF), Blake Inglis(C), and Gabbi Parker(C) all were playing there last home game of the season and high school careers. Abby Mozingo started off the game with a three giving the tigers the early edge but those points were not enough to pull ahead and as the first half came to a close, the Tigers were tied.
"We all wanted to win but not just because of our record, we wanted to win this for the seniors who have led us through the entire season. They all deserved to win more than anyone on the team," junior guard Megan Forbes said.
Later on in the game, the Lady Tigers found themselves down one with the fourth quarter yet to play. The tigers then made a fourth quarter run led by Gerka, Sugg and Murphy's scoring.
With the tigers up six with only four seconds to play and victory was in sight, Sugg was put to the line for two free throws. She drained both, that not only gave her 18 points on the night, but also made her the first 1,000 point scorer in school history. She was able to accomplish this feat in front of the home crowd and better yet, Senior Night. The Tigers won 63-55, improving their record to 16-5.
"It was an emotianal night for everyone, and the team was so proud of Brooke. She really deserved it after all shes done for the past teams and most importantly this one. It was really great getting the win, as a team we are headed in the right direction," Forbes said.
Other noteworthy stats. Gerka ended the game with 19 points, Murphy also had 18, and down low Inglis grabbed eight boards.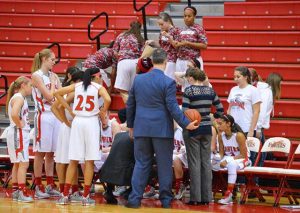 The Tigers next game is on Feb. 6 at Decatur Central starting at 7:30 p.m.