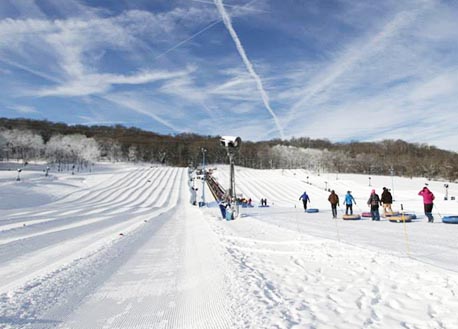 Mitch Lorkowski– The snowboarding and skiing students in Ski Club go to Perfect North every Friday after school and do not get back until around two in the morning. Starting on Fri. Jan. 16, the club goes for four straight weeks every Friday.
Ski Club has gained a following of 45 students in its two year existence the maximum number of students allowed to join due to the bus size. Social studies teacher Robert Hoffman sponsors the club.
"There are things going on Friday night that I sometimes miss out on and wish ski club was on another night, but once I get there I realize that it is only a couple of times I get to do this, so I really try to take advantage and always have a good time," junior Eric Crippin said.
The students are allowed to ski, snowboard and, if they are too cold or tired, to go inside to the lounge, where food and drinks are available for purchase.
"It's my favorite club because it is really a cool experience, even with the high price it's still worth it. My parents pay for it anyway, so that's really not even a factor for me," Crippin said.
Ski club will be available to join next year. Look for the call out meeting before winter break and be sure to sign up quick because they can not take everyone due to space.