Senior Blog: Registration dates and placement tests
Maria Pavy– Unlike a lot of seniors I know, I am lucky in the fact that I have already chosen a college to attend and I have my registration day set up. For many students, this is not an issue until summertime. However, for those who decided early, now is a time where registration dates and placement tests can come into play if one chooses to do so.
Last Saturday, I took the Spanish placement test for Indiana Wesleyan University to test out of some college classes. The placement test was required for those studying Spanish or taking English classes at Indiana Wesleyan. It took me about 45 minutes, and I tested out of two classes. This Saturday, as in March 14, I will have my college registration day. I will sign up for classes, and using this placement test I will have a better idea of the kinds of classes I will need to take in college.
When taking placement tests, you have the opportunity to test out of classes that you may have to take later in college. There is an opportunity to save a lot of money by doing these placement tests.
Early registration is not necessary for all students, but doing registration early will allow me to better choose the classes and times I want, instead of getting whatever is left over during the summer. I will have the ability to stay with a college student after registration and meet some people on campus, so I am excited to do that and to better know the people I will be spending my next four years with.
If you have not decided a college yet, I would not be stressed. There is still plenty of time to choose. I know my situation is unique.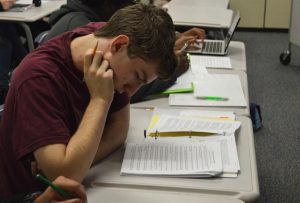 I will also be paying for the AP exam by the deadline on March 20. This will help me test out of some english classes for college. So far I have a good amount of credits from past AP exams and from ACP classes. This will also help me in choosing classes for next year.