Advanced Placement testing schedule released
Ryan Ahler -Advanced Placement (AP) tests are coming, and students have been preparing for the whole year to take them. The length and rigour of AP tests mean that they cannot be taken during an individual class periods, so students are forced to miss either an entire morning or an entire afternoon of classes for each test they are taking.
"With qualifying AP Exam scores, you can earn credit, advanced placement, or both at the majority of colleges and universities in the United States and Canada," College Board, the company who runs AP, said.
During SMART period each week, vice principal Valerie Piehl has been meeting with each of the classes and going through all of paperwork needed to do the tests. Students were given their AP numbers, which they will need to keep with them until they have finished all of their tests this year.
Testing begins on Monday May 4, and runs through Friday May 15. Each test has an individual time set by College Board, so every student across the country takes a classes test at the same time. At FHS the tests will be taken in the main gym. Students are required to bring both a pen and a pencil for all tests, plus any supplementary tools, like a calculator, depending on the test.
Students who are unfortunate enough to be taking two AP tests on the same day will be strapped for time. Piehl recommended that these students bring their lunches from home on those days so that they can just quickly eat in the gym.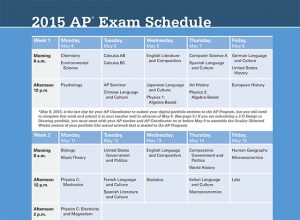 With precious few weeks remaining before the exams, AP classes are doing final reviews of the material. College Board's website also offers practice questions for all of the tests.